10 Reasons to Have Your Wedding at a Sandals Resort
December 8, 2022
Do you already have your dream destination wedding booked with us? Check out our Amazon Storefront for all your traveling needs!
AUTHOR: Liz Moran, Weddings Supervisor
Ah, sweet, sweet engaged bliss! You've got that sparkling ring on your finger and the man of your dreams by your side. You're already daydreaming about your tropical nuptials surrounded by your closest friends and family.  What else do you need?
The first thing you're going to need is a destination to have your dream wedding in! With a myriad of destinations, hotels, and all-inclusive resorts to choose from, it's enough to make any bride's head spin. And that's where Sandals comes in! 
If you're unfamiliar with Sandals, here's a brief run-down:
Sandals is a 5-Star, adults-only, luxury, all-inclusive beach resort brand located throughout the Caribbean. With a portfolio of 17 resorts on 7 islands, each property has its own style and atmosphere to experience without sacrificing the great service and delicious food that Sandals is known for.
Here at VIP Vacations, our thirteen-person travel agency does between 70-100 weddings & group trips each year. I can tell you firsthand that Sandals knows how to do weddings. Whether you want to have a small elopement or you're inviting more family than you knew you had, Sandals Resorts and their amazing wedding team has got you covered!
Don't believe me?
Here are 10 Reasons to have a Destination Wedding at Sandals Resorts!
You can have a FREE wedding!
Sounds too good to be true? It's not! If you stay 3 nights or more at a Sandals resort, they will give you a wedding for free! Their free wedding includes: one of their free ceremony locations, a bouquet for the bride & boutonniere for the groom, complimentary two-tiered wedding date, a cocktail reception, and more! The Free Wedding is a great place to start for all wedding couples, whether you are looking for a simple, easy affair or a big blow out event.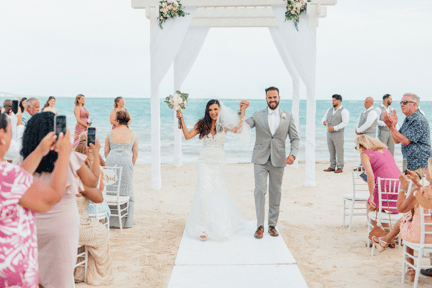 Staying Longer? You'll get even more!
If you are staying 7 or more nights, what Sandals Resorts calls a "WeddingMoon", you'll get even more free perks! This can help cover the costs of your wedding license or offset the cost of that room upgrade you wanted (go for the Butler Service – you won't regret it!). It can even pay towards a romantic candlelight dinner with your new spouse!
Location, Location, Location!
Sandals is one of the top resort brands in the Caribbean. You can be sure that each of their 17 resorts are located on stunning beaches with unique wedding venues! It's hard enough deciding which of the 6 islands you want to get married at. Sandals has resorts in Antigua, Barbados, the Bahamas, Curacao, Grenada, Jamaica, and Saint Lucia. Now you have to decide: Do you want to have a barefoot, beachfront ceremony? What about vows exchanged in a one-of-a-kind Over the Water Chapel? Is a tropical garden more your style? Do you want to wear your favorite pair of Jimmy Choo's and get married on a rooftop sky terrace overlooking the ocean? The options are (almost) endless!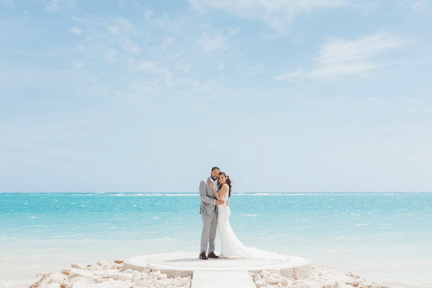 Affordable Food & Beverage Options
Planning a wedding at home can easily cost a couple $80, $100, or even $200 per head just on food & beverage alone. Thinking about those costs is enough to make any bride want to elope! But at Sandals, you can have a full reception dinner for as little as $14 per person – and that includes alcohol! Plus, Sandals has variety of menu options to choose from! So if you want to have an Italian themed Welcome Dinner, a more traditional four-course Reception Dinner, and then a Post-Wedding Brunch (mimosas included!), you can and you won't have to worry about robbing a bank after.
Group Perks that Can't be Beat
Bringing down the friends & family? Sandals has you covered! By booking a group with Sandals, you'll get even MORE perks (as if all the frees you're getting already aren't enough)! Sandals group perks are based on how many rooms you bring down with you, and the more rooms that book into your block, the more you receive! Their group perks range from a free Sangria Bar to a free Welcome Cocktail Party to a free Reception Dinner or even a free room upgrade.
Unsure about where to start getting information for bringing a group down for your wedding? I recommend reaching out to an experienced Destination Wedding Travel Agency like VIP Vacations! A good travel agency will be able to help you figure out which Sandals resort is best for you, as well as work with your guests to book their travel. That way, you are off the hook and won't need to explain to Aunt Mary for the fifth time which hotel she should book at – let your travel agent do that!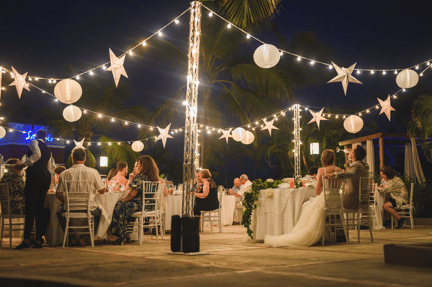 Easy-to-Navigate Wedding Planning Tools
As any bride knows, one of the skill sets you develop while planning your wedding is patience. You are constantly waiting to hear back from someone – your florist, the reception venue, your second cousin's new girlfriend. Sandals Resorts is one of the only hotel brands I know of where they have pricing clearly listed online for floral & décor items. What does this mean for brides? It means that you don't need to wait 2-3 business days to find out how much that centerpiece, bouquet, or plate charger costs. Complete game changer! With just a few clicks of your mouse, you can have your wedding planned and don't need to hear back from anyone! (Except maybe your second cousin's new girlfriend – someone teach that girl how to mail back an RSVP!)
Experienced Wedding Planners
Regardless if you're the type of bride who wants to have everything planned out 6 months from your big day or if you're more comfortable planning a little bit here and a little bit there, Sandals is here to support you with their experienced (and free!) wedding planners! Whether you work best by email, phone or even video chat, Sandals has you covered! Your Sandals Wedding Planner knows all the ins and outs of planning a wedding at one of their resorts and will make sure that nothing is forgotten for your big day!
Virtual Wedding Planning Sessions
Are you someone who needs to see something before you can make a decision? Aren't sure how the Wood Grain Charger plants will look with the Ivory Lace Table Runner? No worries – Sandals can help with that! With their Virtual Wedding Planning Sessions, you'll be able to video chat with your wedding planner while they show you what your ceremony & reception décor will look. And if something doesn't look right or you really like that geometric candle holder you spot on the shelf? Your wedding planner can adjust the design in real time with you! As someone who has been working with Sandals brides for over 20 years, there are only two words that properly describe this feature: LIFE CHANGING.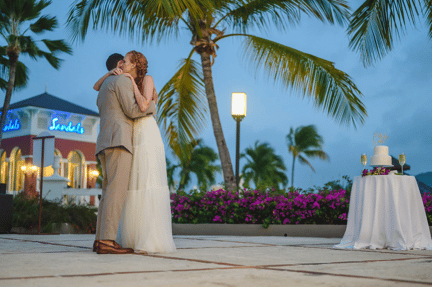 Give them a Test Drive!
Still not sure Sandals is the right fit for you? Test it out! With Sandals' Test Drive Your Weddingmoon program, you can stay for up to 3 nights at one of their resorts for as low as $250 per couple per night! During your stay you'll get to experience first-hand the amenities Sandals has to offer. You'll get to meet with the on-site wedding team to tour the resort. You will view the ceremony locations, go over catering menus & décor options, and answer any questions you might have. After you've booked your Sandals Wedding group, you can enjoy up to $1050 in credit to use towards the cost of your wedding. (Another free perk? Yes indeed!).
Your Wedding Customized to fit YOU
Even though Sandals offers all these amazing perks, they don't mean anything if your big day doesn't reflect you and the love you and your fiancé have for each other. That's why at Sandals Resorts, you won't be pigeon-holed into picking a wedding package that doesn't fit your vibe. Your experience will be tailored to fit what you are looking for, so no two weddings are alike. Whether you and your guests want to have a weekend filled with cocktails, catamaran cruises, and Caribbean calypso bands or a more laid back weekend of relaxing on the beach, rum runners, and romance (or something in between), Sandals is here to customize your wedding experience to fit YOU.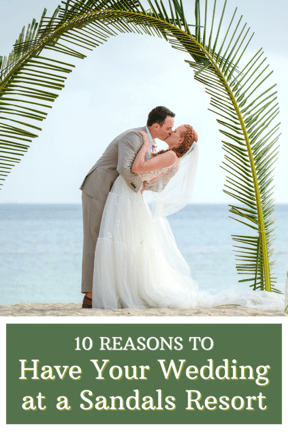 Have we convinced you to book your destination wedding at a Sandals Resort? Reach out here for more information and to get in touch!
Please Note: This post contains affiliate links. If you click a link and make a purchase, we may earn a commission at no additional cost to you. As an Amazon Associate, we earn from qualifying purchases.