Favorite Location:
Mexico
Favorite Drink:
Malibu Bay Breeze
Favorite Song:
Christina Aguilera - Fighter
Emily Bertsch of VIP Vacations:
You might be asking yourself why you should use a travel agent?
My JOB is to create an experience for you that is AMAZING!
The bonus is that you won't have to pay a dime more for using VIP and I am your advocate!
Where do you want to escape to?   I'd love to show you how remarkable VIP is!
Are you looking for the PERFECT destination wedding? I had my own destination wedding at the El Dorado Royale by Karisma in the Riviera Maya, Mexico. I would LOVE to help plan your perfect wedding as well 🙂 <3

Emily's Full Bio
I really wanted to help others plan vacations.  With my background in the hotel         industry, I knew I could be an asset to VIP.  Before my feet could get through the doors of the corporate office, I was told that I had to become "schooled" on what makes VIP different from other travel agencies.  I began looking at our clients, studying and training for certifications and attending seminars.  Oddly enough, finding out what makes VIP different isn't found on the information listed on the company's website, or among the pages of the brochures that are highlighted with our favorite resorts, and it has nothing to do with the specialties we list.  What makes VIP different is that we want to make sure YOUR travel experience is enhanced simply because you used VIP to plan it.  This includes finding the best rate, giving detailed information, answering all your questions, helping you if there is an emergency, providing personal experience about that destination and above all, making sure your expectations are met.
I have come to learn that the reason VIP is often recommended and referred to others is because we truly value each of our clients and put their need's first.   My priority as a VIP agent is to make sure that your vacation is one that exceeds your expectations!
I can't wait to hear what you envision your next vacation to be!
Emily's Certifications
Testimonial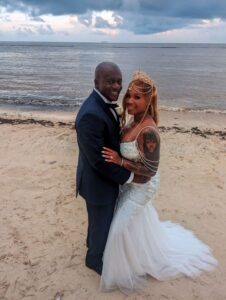 I would like to take the time to thank everyone at VIP for working with us and creating a magical moment. Everything turned out great and we couldn't have been happier.
Everything was simple if you followed the steps provided by VIP. While I had issues, those issues did not take away from the great time we had at the resort.
The staff at VIP were amazing. Special shoutout to Justin and Emily. Speaking with each of you felt like speaking with a friend. Justin did an amazing job keeping the guest in line with their reservations and payments. Emily did a wonderful job coordinating the wedding. James and I are completely pleased with the service you all provided.
Thank you again for everything. It was amazing.
Felicia Davis and James Lyles
Parkville, MD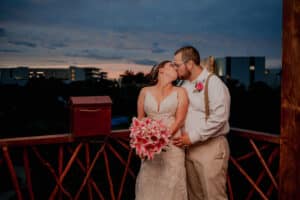 Mason and I would like to formally thank you for all the help and dedication and planning over the past year for our wedding. We have since looked back at the day and could not be happier with the outcome. Multiple guests also commented on the team's attentiveness to emails and phone calls with all questions answered. Continue what you do and many more couples will be happy about their choice in travel agency!
We can't thank you enough.
Dana and Mason Kimball
Hatboro, PA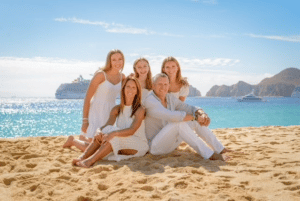 We had a wonderful time in Cabo! Thanks for helping us make amazing memories with the girls!
Monica Witkiewicz
Denver, CO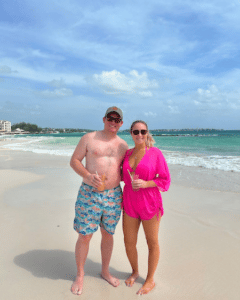 We had the best time on our honeymoon at Sandals! We loved all of the restaurants and there was so much to do on the resort. We went on a snorkeling trip and the cave tour through the island tours. They were both great trips. We saw sea turtles, stingrays, colorful fish and two ship wrecks. I was really amazing! I will send you a few pictures. Thanks again for all of your help and I will definitely be reaching out to you again for our next trip.
Shannon Palmer
Long Beach, NY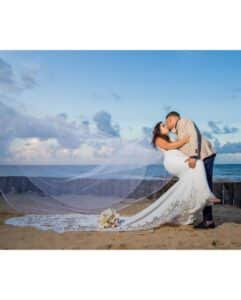 If you are planning a destination wedding let me tell you … YOU HAVE FOUND THE RIGHT TEAM! My husband and I cannot say enough about VIP vacations!!! They were awesome and detailed from beginning to end. We had our wedding at Dream Punta Cana. From getting in touch with wedding coordinators to accommodating 60 People with resort reservations and transportation. AMAZING Service ! We worked closely with Emily and Robert. We look forward to continue to use them for all of our future vacations.
Leslieann Morales
Easton, PA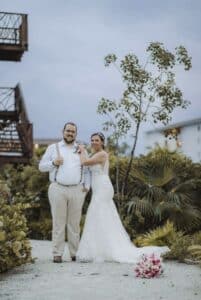 Our trip was out of this world fantastic! I couldn't imagine a better wedding.
Favorite memory is probably the whole wedding day. Everyone had such a great time!
We enjoyed the food most on the resort. Everything was so delicious and the staff was very welcoming.
I attached a photo from our sneak peek photos and our welcome party the night before the wedding.
Two team members really stood out: Emily and Robert/Mac. Both of them helped immensely in the planning process and coordinating the guests together to make sure everything went smoothly. They were always ready for a call or email when questions arise and responded quickly.
Thank you guys so much for pulling this together for us!
Dana Lukowski
Hatboro, PA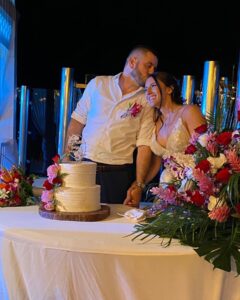 The wedding was perfect - best day ever!!
The actual wedding/reception was definitely our favorite. Foam party was awesome too, and so was the sunset cruise. I attached some pictures for you :-)
The resort was amazing - just as we remembered it!
Thank you so much for all of your help with planning everything, it really made it much easier on my end and I appreciate your help!
Megan Saraceno
Whitehall, PA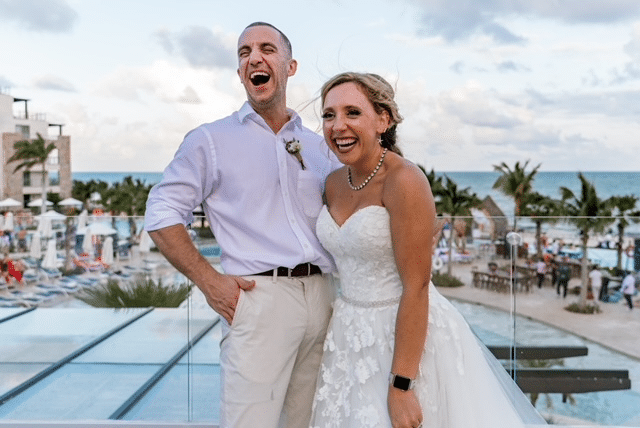 We loved the resort! The pools were amazing, food was excellent and the service was phenomenal. We didn't do any extra activities besides visiting the spa, and it was the most amazing experience I would recommend the massages and hydrotherapy to anyone who goes there. I would definitely recommend this property and I would go back in the future for sure!
VIP has been amazing through this whole experience, between moving dates and people canceling last minute you guys met all my expectations and we got some perks that I was extremely satisfied with! Emily, Liz and Robert were awesome from start to finish and the whole experience was great, once I got there everything was taken care of and I didn't have to worry about anything!
The team at dreams was slow to respond but the wedding met all my expectations and I would recommend others to get married there. I didn't feel any stress everything came together perfectly and I couldn't of asked for a better day. The team at dreams even threw in some extras that we didn't ask for but definitely added to the experience and it was amazing.
Danielle Mainardi
Norristown, PA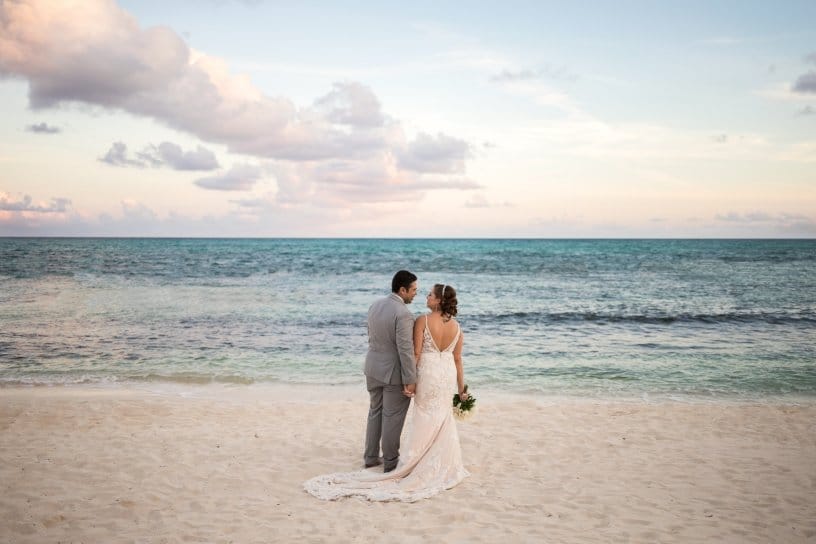 We are so pleased with our experience with VIP Vacations. We were living in Europe, while planning a destination wedding in Mexico and knew we'd need help coordinating everything with the resort we had chosen. The woman who was our primary POC at VIP, Emily, had even gotten married at the same resort a couple years prior. She was able to communicate all of our choices and questions with the on-site team at the resort in a timely fashion. The rest of the VIP team went the extra mile to check in with guests leading up the party (ensuring everyone had their itineraries in order and arranging transportation to/from the resort) and even made sure to see how everything was afterwards. The wedding itself went off without a single hitch! The on-site team was so amazing as well, which meant that VIP had maintained excellent communication with them during the planning phase. VIP gifted us some really nice things while we were at the resort to ensure our wedding was an unforgettable experience. We would recommend VIP Vacations to anyone looking to plan their wedding or even just a getaway!
Talia & Oswaldo Najarro
Sherman Oaks, CA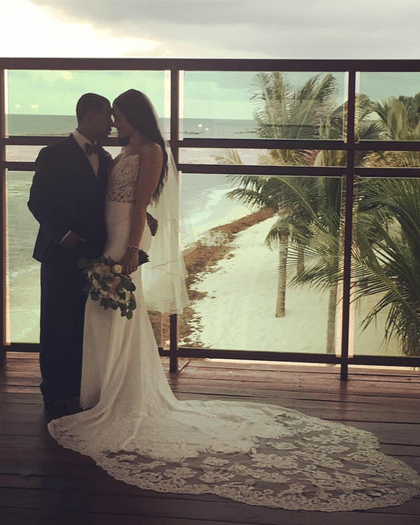 Mr. & Mrs. Turney
North Bethesda, MD
My husband and I recently got married and couldn't be happier that we chose VIP to help us plan our wedding and accommodations. Emily was our main POC and her and the entire VIP team are amazing. Super supportive, friendly, and attentive. I couldn't have asked for a better team to work with. We'll definitely be using them again. What's even nicer is that they sent us a wedding gift also when we returned from paradise.
Emily helped us book our honeymoon in Turks and Caicos and she was awesome.
I was stressed out about planning a big trip but she made it easy for me and
found us an incredible spot that was within our budget. She was very patient
and answered all of my MANY questions quickly and gave me her honest opinion
and recommendations. We had an awesome trip without any of the stress thanks
to Emily & VIP!
-Katy W. 
Kutztown, PA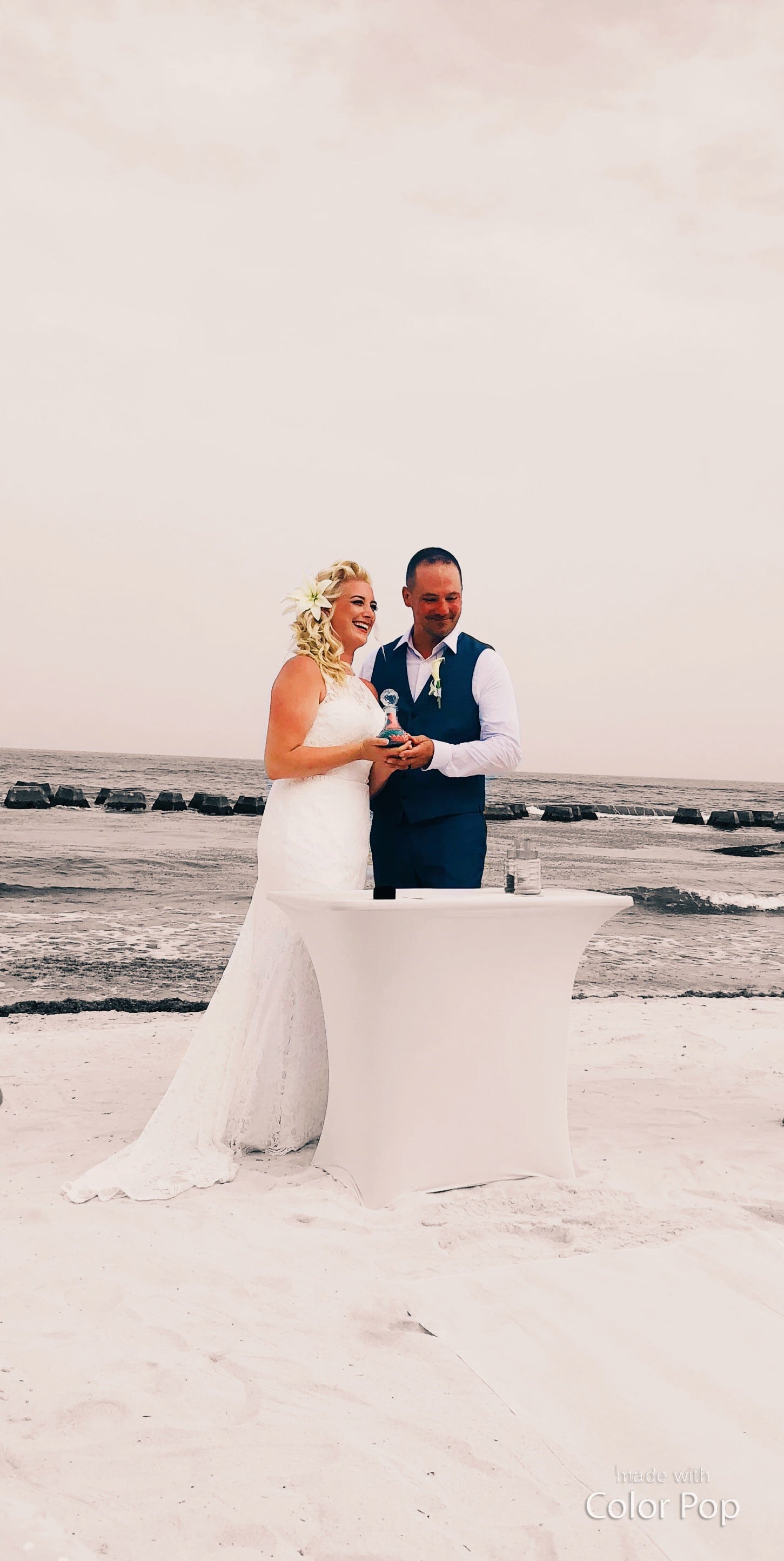 My husband and I have been married for a little over a month now and it took
me until just recently to snap back into the reality of non-vacation
dwelling, rainy pennsylvania, non-all inclusive life. I have been working
with VIP to plan a destination wedding since 2016. I did not want to plan a
wedding at all and knew I was going to be in good hands! El Dorado
Royale/Generations went about and beyond making sure we had everything we
ever wanted on this special day. The most important shout out goes to Emily
and Ryan! They did an amazing job planning and helping our guests making
sure their trip was memorable just as ours. Thank you so much VIP team for
everything you did for us!

 

Karissa & Kyle Huddle

Bethlehem, PA
[caption id="attachment_22594" align="alignnone" width="1000"]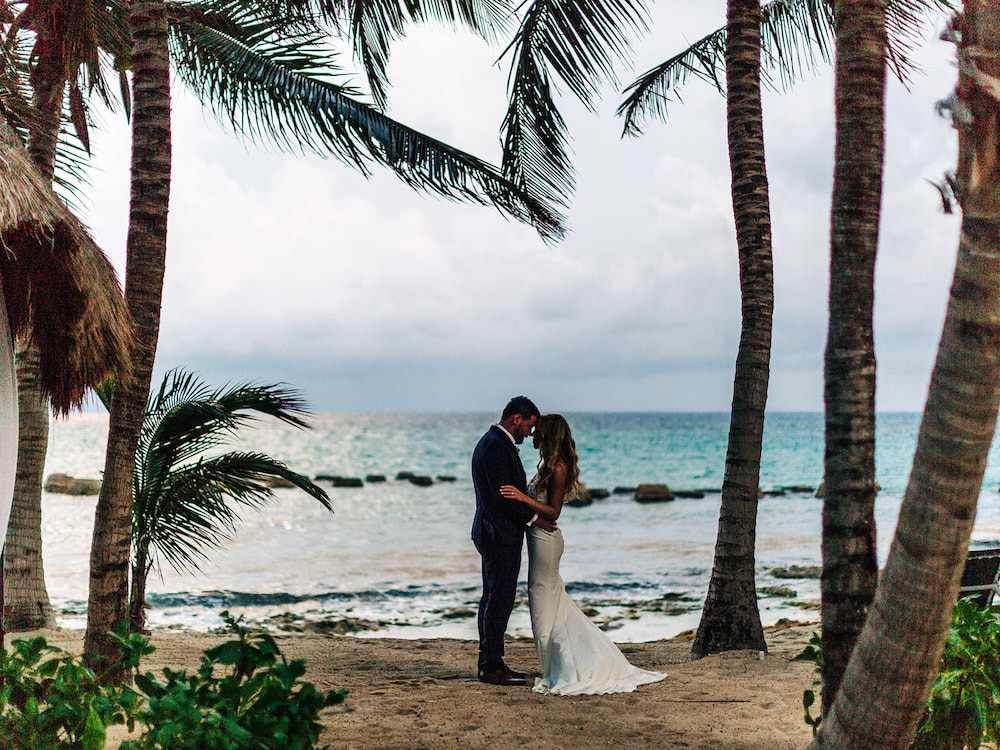 (Jessica Manns Photography)[/caption]
Hi Emily, 
I just wanted to thank you and the VIP Team for the beautiful handwritten
card and personalized frame! What a lovely and thoughtful surprise to come
home to! As for the wedding/honeymoon, we had the best time!! It was
absolutely beautiful and we are so happy with the way everything turned out.
Thank you again for everything!! 

AJ & Kim Blume

Philadelphia, PA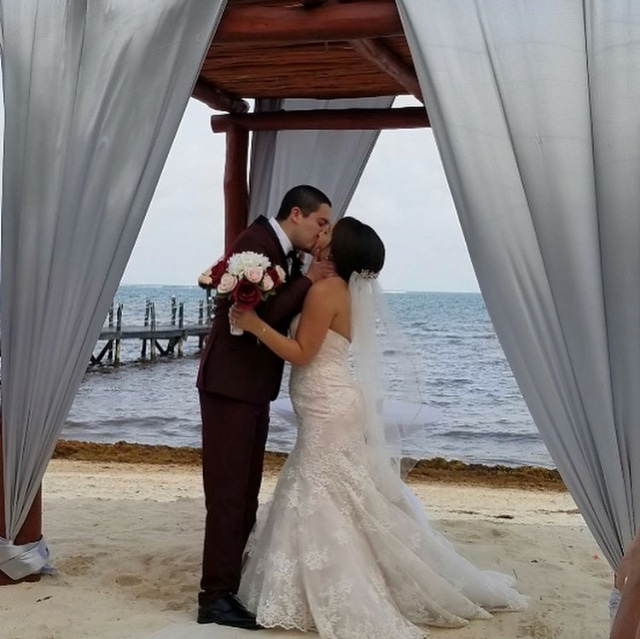 Our wedding day was absolutely amazing!! It was everything we dreamed of and so much more. The wedding team at Azul Sensatori was spectacular! They handled everything flawlessly and we never had to worry about anything. We would definitely recommend this property to other people. The pools were amazing and the staff was wonderful. We loved all the food and the rooms. We just enjoyed every minute there.
Jesse and I also wanted to say thank you again to everyone at VIP. You all are so wonderful and really made me feel like I was the only bride you were working with, which I know is far from the truth!! I can't thank you enough for all the hard work and everything that you did to make sure our wedding day was perfect. I especially want to thank Emily for being there with me every step of the way and answering any questions I had and just being so sweet throughout the entire process! I also want to thank Ryan for being so helpful and responsive.
Alyssa & Jesse Armijo
Albuquerque, NM
We worked with Emily and Ryan to plan our destination wedding. They were nothing short of spectacular. Always so prompt in returning our emails and clearly answering every and all questions we had. Glad we booked through them. They made our wedding a truly momentous day!
-Stacey & Drew Doty
Charleston, SC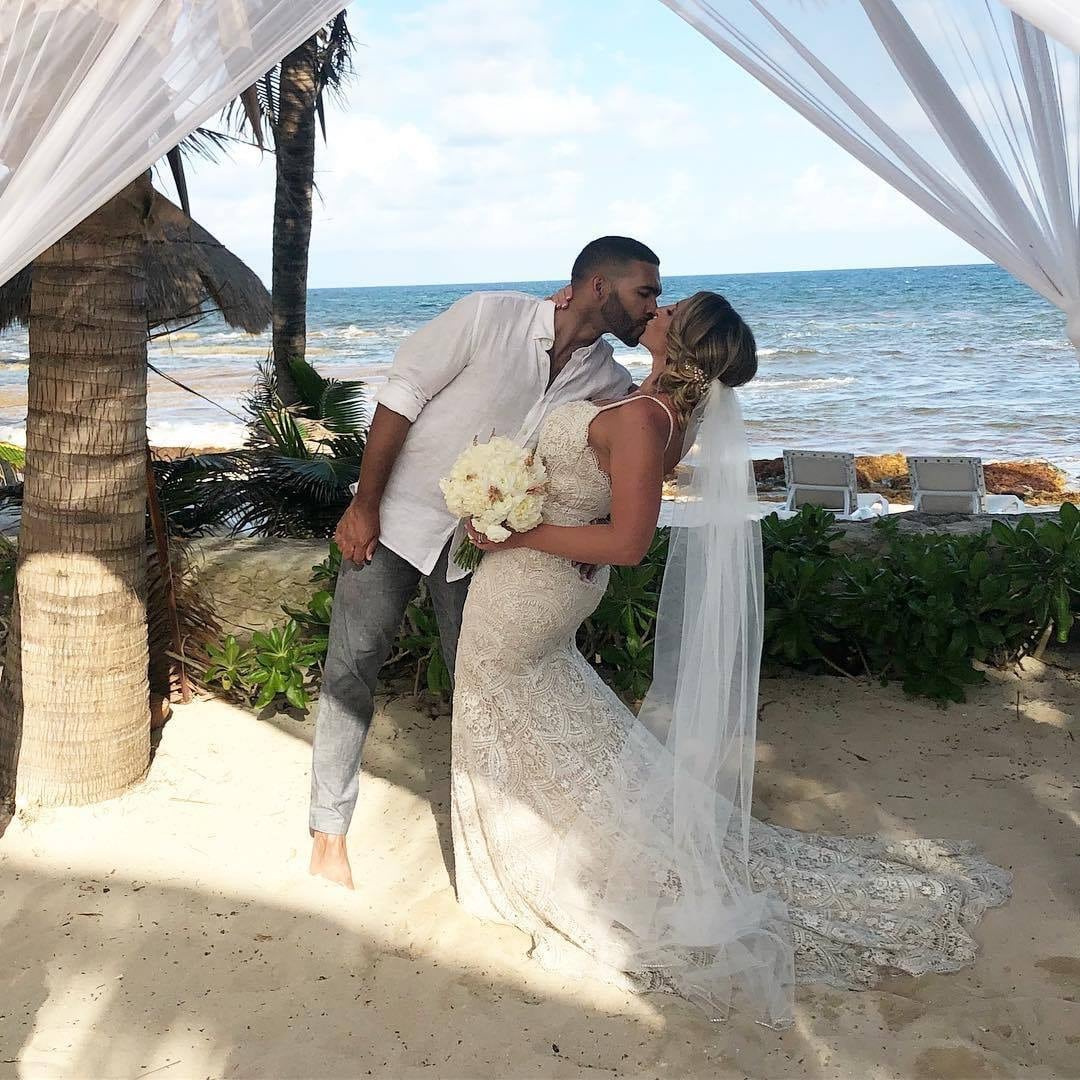 My husband and I have been married for a little over a month now and it took me until just recently to snap back into the reality of non-vacation dwelling, rainy Pennsylvania, non-all inclusive life. I waited a bit to post my review of VIP because I couldn't quite come to terms with the fact that I had woken up from my actual dream come true. I have been working with VIP since June of 2017 to plan a destination wedding. I am NOT a planner so the idea of a destination was ideal for me... I relinquished control to the professionals and took the advice from the pioneers that had quite literally walked the aisle that I was just about to. Every fiber of my being fought the idea of the total unknown, but the dream of my fairytale wedding was painted and brought to life by VIP. No amount of words can describe the guidance, insight, professionalism and actual therapy that VIP gave me throughout our planning process. After what seemed like an endless amount of time combing through the worlds coolest all inclusive resorts, we finally chose to embark on our wedding at a Karisma resort called El Dorado Royale based on its convenience, price and ultimate vibe. I put my faith in the hands of Emily Bertsch and team to help me plan the most memorable day (and week) of my life. I was UNDOUBTEDLY a pain of a customer because at any given moment I had 1500 questions, specifically about the security and safety of our resort. Emily- my Mexico pro, ensured me that I would be treated like a queen. She couldn't have been more right! Also a monstrous resource for us was Ryan Doncsecz- even to this day! I had a helping hand from the second that I jumped on the destination bandwagon to the second I got home from our trip. To put the icing on the metaphorical wedding cake, we came home to a beautiful personalized picture frame from our family at VIP. I could spend hours showering these folks with accolades and acknowledgments, but I will leave you with this.... stop what you're doing and call these guys already. You WILL NOT regret it.
-Kaila & Joseph Baker
Easton, PA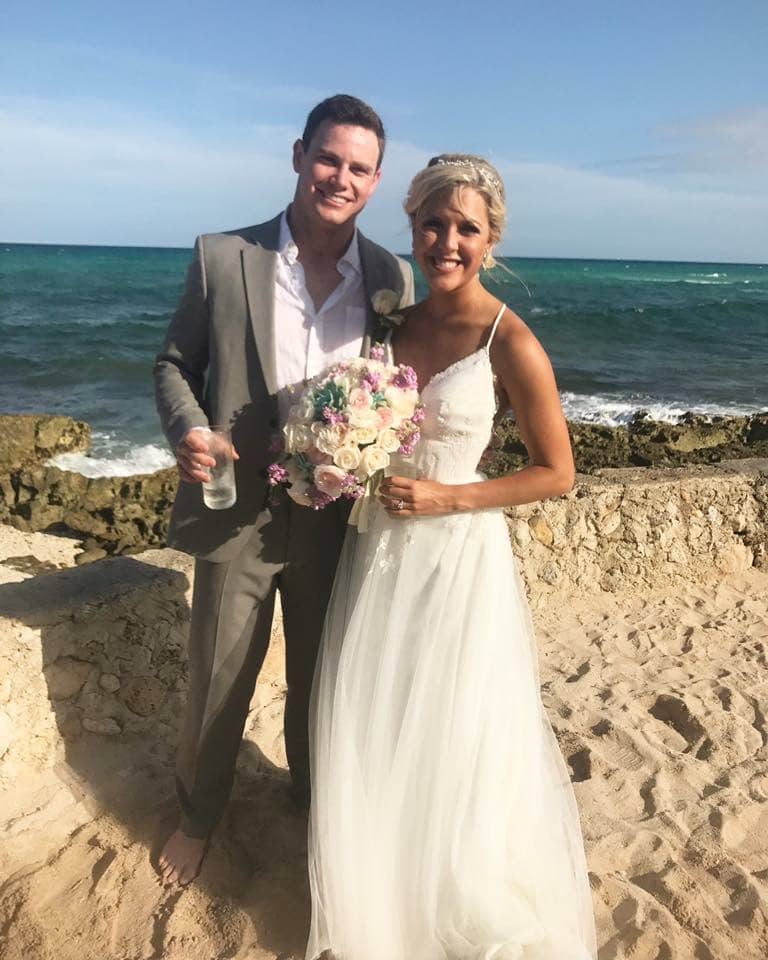 Kaitlyn Klena & Collin Brence - Plano, TX
We greatly enjoyed working with the VIP team and would highly recommend them to our friends/family. The entire team was a pleasure to work with, and all the reps were great with our guests. In particular, we were extremely impressed with both Emily and Ryan. They were extremely kind, comforting, and helpful. Emily was especially helpful on a stressful conference call with Kaitlyn and her mom. She was extremely calm and respectful. She answered all of our questions with grace and followed up with all the answers we were looking for. She was great when discussing decorations and locations at the resort. Overall, Emily was a HUGE help in planning the wedding. Just like Emily, Ryan was always so comforting on the phone. I called him OFTEN. When we got ahold of one another, Ryan always spoke with such a positive tone ready to help. He constantly problem-solved and was creative with his logistics. He knew exactly when and how to add rooms for our large group. He offered several options to our guests and was very efficient. Everyone who spoke to him was very complimentary. He understood our desire to keep costs low, and always provided cost-effective options. The combo of Ryan and Emily was a dream team. We were extremely lucky to have them. A couple more shout-outs: I only spoke to Bryan a couple times, but he was extremely comforting and nice as well. Liz almost ALWAYS picked up the phone and was always helpful in answering any questions she could or getting a message to the right person.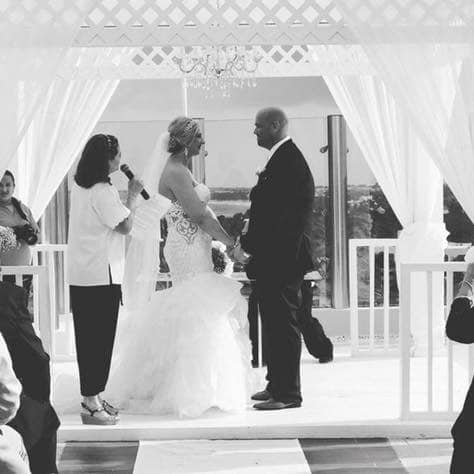 Mr. & Mrs. Jones, Scott Depot, WV @ El Dorado Royale
VIP Vacations is the absolute best!! We wanted to do a destination wedding and they have us all options and great reviews. With narrowing it down to Mexico we found the best place. It reassured us also because some of the staff has been there, and they gave us personal reviews. They made the process of blocking off rooms and transportation as well as making sure everyone received the best deal they could get. We literally picked the resort and they handled everything else down to wedding planning. We worked with Emily specifically and she was the best ! Totally recommend.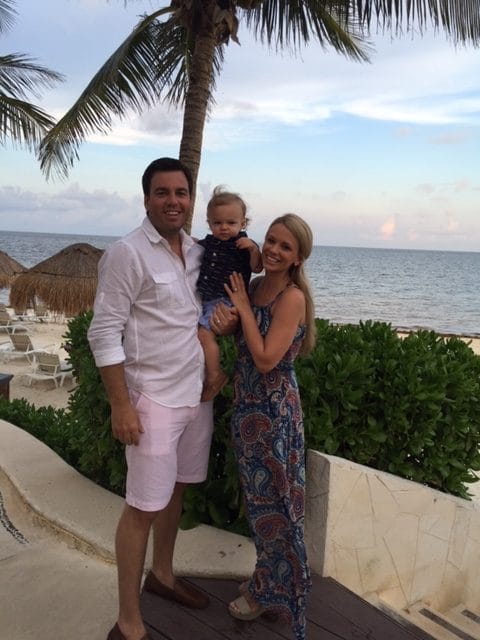 Jim Heiligman - Bryan, TX
Azul Beach
Thank you VIP, for once again another incredible vacation. You have helped
us make so many memories as a family, and we are extremely grateful.
Much thanks
Jim, Courtney and Clarke
Our honeymoon at Excellence Playa Mujeres was AMAZING!!! Transportation to and from the airport was great, friendly, and spoke decent English. When we arrived at the resort check in was easy and they even upgraded our room to a walk in pool room along the lazy river by the spa. The resort, room, and food were incredible!!! I had complete say in booking the honeymoon so the resort met and exceeded my expectations. My husband was blown away especially because he knew nothing about the resort except that it was in Mexico and was all inclusive. The entire time we were there he kept saying that I definitely picked a great location.
The room was stunning… king size bed, beautifully decorated, walk in closet, marble everywhere, full stocked mini bar and fridge (which was restocked daily), walk in shower that like 7 people could fit in, and Jacuzzi overlooking the pool. With the honeymoon package we received wine, and fruit upon our arrival, special turn down service one night, rose petals upon arrival, and they did a romantic room night with bubbles for the tub, incense, more wine, and rose petals everywhere. It was beautiful!!!
Room service was great! They accommodated my allergy to nuts, delivered in an appropriate amount of time, and set the food very elegantly either outside on table, or on the bed.  The food choices throughout the resort were endless and all were delicious. Everything from room service, to food by the pool or on the beach, to all of the nice restaurants for dinner. It was all wonderful! Almost 8 months later we are both still trying to lose the weight we gained while we were there lol. The alcoholic drinks were endless, and pretty tasty! The staff at the pool got to know us and what we liked to drink and would make sure we had another drink if we were running low. They even did this if we weren't at our chairs. We would come back from a dip in the pool to new drinks!! One add on we did was a romantic dinner on the beach. It cost over $100 but we figured why not, it's our honeymoon. I am definitely glad we did it. The evening was very romantic, service was great, and the food was yummy! It was a beautiful evening!
The pool and beach areas exceeded our expectations! They were beautiful, peaceful, and romantic. While on the honeymoon we took kayaks, and mini sail boats into the ocean. We even paid to do jet skis at the resort. My husband played soccer, and volleyball whereas I watched the cooking and drink making shows. At night they had a Mexican celebration evening with all the decorations, food, and celebration one would expect of an outdoor Mexican party! They had numerous shows during the evening, and also had bands and performers.
So, we enjoyed every aspect of our honeymoon and would love to go there or another one of Excellences resorts in the future. Maybe for our five year anniversary. My only complaint is that we ate way to much!!!! Everyone says brides gain weight after the wedding because they don't need to impress their now husbands. For us, it was not the wedding that made us both gain weight, it was all the delicious and endless food on our honeymoon. J My husband and I are rather modest people. We do not spend an extravagant amount of money on things and try to live well within our means. We have stayed at a four star resort before but never a five star. Excellence was well, excellent! I wish we would have known that during the evening people dressed up as in long dresses and kinda formal. We did not bring formal enough attire for the evenings but oh well, we enjoyed ourselves anyways. I always talk fondly of our honeymoon to friends and family and recommend everyone to go there and to use VIP vacations. We both think you did an amazing job helping me pick a honeymoon and the whole process was easy and stress free.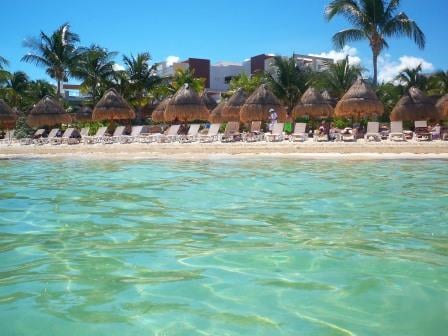 Samuel & Amanda DeAlba - Allentown, PA
Emily I wanted to thank you again for the awesome vacation that Rob and I just had.  We wish we could have stayed longer.  The Resort was beautiful and the staff were amazing.  We snorkeled in the caves and saw some great things.  Thank you again.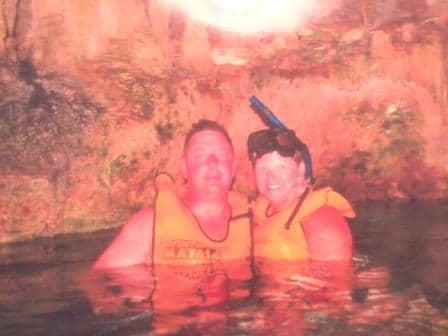 Trina & Robert Grace - Allentown, PA
Hey Emily,
Hope all is well your way. As you know we took our trip recently to Majestic Elegance Club in Punta Cana. I want to take the time to say thanks to you for helping us in the whole process of choosing this trip, everything was just a breeze from checking in to the airline to checking out of the hotel. The experience over there was one of a kind, we loved everything about the place we stayed in...EVERYTHING! We decided that we want to go back there next year for around the same dates. Thank you so much in helping us choose this fabulous place and for always being there when we were unsure of things...i look forward to contacting you again for our next trip. Thanks!!!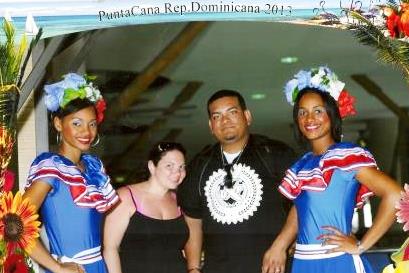 William & Nicole Romero - Bethlehem, PA
VIP Vacations could not have planned our honeymoon to Hawaii any better.  Jennifer listened to all our wants and delivered our preferred hotels, flights, car rentals and transfers right within our budget. At no point did we feel overwhelmed with inter-island travel.  Emily had great recommendations for the best beaches, restaurants and activities on the islands.  She went even further by making reservations for us in advance.  All in all, fantastic job!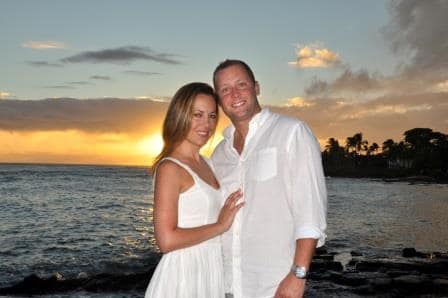 Sean and Tara Hutchinson - Philadelphia, PA
Hi Emily,
Thank you sooo much for all your help planning our honeymoon at Sandals Montego Bay! Chad & I had an   amazing time! With so many Sandals resorts and locations to choose from, we definitely needed help narrowing down which was the best for us and what we wanted to do. Sandals Montego Bay was exactly what we were looking for. The first thing we noticed was that the staff was extremely friendly! They make every guest feel like they are a VIP! Overall, we can't say enough about how much we enjoyed our time at Sandals Montego Bay!
Thank you again for helping us plan the perfect honeymoon! We hope to work with you again on future vacations!
Andria & Chad Helfrich - Whitehall, PA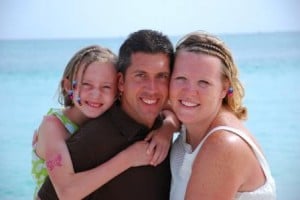 Hi Emily,
Beaches was great!  Best vacation we ever went on.  The first all-inclusive we went on and to tell you I could get use to that treatment. Yes, Madalyn loved it as well.  She didn't like the idea she could "see" the fish in the ocean but she quickly got over it.  Even saw some stingrays one day.
All the workers were friendly and helped us with whatever we needed.  We will definitely go back to Beaches whether there or one of their other resorts.
Thanks again for all your help with our honeymoon.  I know I can ask a lot of questions.  We will make sure to call you next time we plan a vacation.  Thanks again!
Mark and Amanda Sivak, Bethlehem, PA - Beaches Turks and Caicos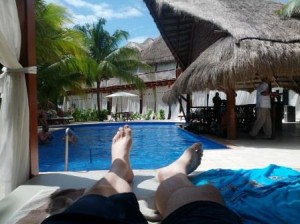 I wanted to drop you a personal line and say THANK YOU for a wonderful vacation.  The resort is every bit as amazing as you led us to believe, the staff is wonderful, the food was truly "gourmet" and we really had a fantastic time.  The manager held one of the best rooms on the property for us and we had the view from the brochure - exactly what we wanted.  So, thank you so much for the personal touches that made that happen.  The friends we met there paid substantially more for a swim up room and were very envious of what we had.
THANK YOU AGAIN!
We will be using you again in the future.  You made everything very easy.  :)
Matthew and Theresa Ghilarducci, Fresno CA - El Dorado Maroma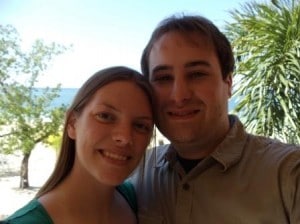 Hi Emily!
We had a GREAT vacation!  We got upgraded to a larger room that was super nice (everyone else that had that room type had butler service).  We had a pretty nice view.  The turn down service every night was fun; they made different animals heart-shapes with the towels every night.
The food and drinks were great!  There was a nice selection between all of the restaurants. We really loved the resort.  It was clean and well kept.  There were wild peacocks that took a residence at the resort.  They were really fun.
Another thing that we really liked were the activities on the resort.  Chris and I are not beach-sitters, so it was nice there there were so many activities.  We got our scuba certification and went diving every day!  We also did and excursion where we went to the YS Falls and a river cruise. The falls were so much fun!  They were just as pretty as the pictures and the people that worked there were the most friendly people we met on the entire trip!
The beach was very clean; every morning a man combed it by hand (I watched him with great amusement)!  The water is prettier than the picture.
Overall the experience was GREAT!  We really appreciate your help and are definitely going to use you guys for our next vacation!
Katie Iacocca, Allentown PA - Sandals Whitehouse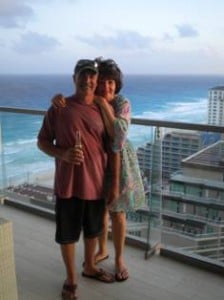 Hi Emily,
Just wanted to thank you for making our arrangements to Secrets the Vine.  I can't tell you enough good things about it...it was wonderful.  The service, the food the hotel were amazing.  I would go back again in a heartbeat:)
I have recommended the hotel and you to anybody that asks!
Thanks again,
Francis and Mary Anne Fitti - Glen Mills, PA - Secrets the Vine