Favorite Location:
Under a palm tree
Favorite Drink:
Cosmo
Favorite Song:
John McLaughlin - So Close
Although Jennifer Doncsecz has been to every continent, she lives, breathes, and loves romance! In addition to her love of travel, she has become a renowned travel authority seen on Fox News and the Travel Channel.  Furthermore, she is the destination wedding expert for several of the top destination wedding resorts and bridal publications:
Jennifer says that assisting clients in finding their "happily ever after" is her passion.  She believes in fairy tale moments and also feels that everyone deserves a slice of paradise.  Through her leadership, she has set high standards at VIP.  Their  #1 priority is guiding you to your dream destination and ensuring that all of your expectations are met!
"It would be an honor to help you create a memory", says Jennifer
Please see full bio for Jennifer Doncsecz's entire list of media appearances and articles.
Jennifer's Full Bio
Jennifer Doncsecz, CTIE, is a nationally recognized travel expert, specializing in Caribbean vacations, destination weddings and honeymoons. As owner and president of VIP Vacations Inc., Jennifer has distinguished herself as one of the top travel agents in America. Having received numerous industry awards, Jennifer uses her position to educate consumers as well as travel professionals on how to create amazing memories through travel.
As an authority on a variety of travel issues, Jennifer has appeared as an expert on CNN's Headline News and FOX Philadelphia's "10 O'clock News." She also serves as a regular guest on FOX Philadelphia's "Good Day Philadelphia", appearing Friday mornings since 2006 on FOX 29 as well as syndicated Fox networks.  She has also been called upon by PBS 39's "Tempo" to give weekly travel tips.  "Geraldo Live" on Fox National News has interviewed Jennifer about travel related issues for his FNN show.  Jennifer and VIP Vacations are frequently highlighted in the trade publication Travel Agent, which in June 2007, featured a cover story titled "Jennifer Doncsecz, Media Darling.".  Travel Weekly Magazine named her a "super star" agent and has placed her on their schedules for conventions and online webinars.  Jennifer has also been featured in dozens of other publications including The New York Times, Elite Destination Weddings, Island Boater, Brides, Modern Bride, Bridal Guide and most recently, Cosmopolitan Magazine. In 2014, Jennifer became a USA Today 10 Best contributor and has written several feature articles for USA Today. Jennifer has served as a guest on "Peter Greenberg's Worldwide Radio show". She has been a featured Key Note speaker at dozens of travel conventions, the New York Times Travel Show, and has given presentations as an on-air travel advisor for many online travel webinars.  In July of 2008, Jennifer appeared on Travel Channel's Great Cruises of the World Series in which she served as the Cruise Expert for three seasons airing from 2008-2010.   Since 2016, Jennifer has written a monthly column for Vacation Agent Magazine called "Travel Stylings" which provides guidance for travel consultants on marketing, branding, customer service, and business planning. 
In January of 2016, Vacation Agent Magazine (Travel Pulse) named Jennifer the Most Innovative Agent of the Year and presented her with the 2016 Travvy Award. Jennifer also received another Travvy in January 2018 for Niche Marketing for Destination Weddings.  As the President of VIP Vacations, Jennifer has led her team and company to worldwide recognition and over 200 awards in the travel industry.  VIP Vacations has been a top selling agency with Sandals, Beaches, Karisma, Palace, Hyatt, Hard Rock, AM Resorts, and Riu Resorts since 2005.  In 2017, VIP was named the top selling agency in the world for weddings for Sandals/Beaches Resorts.  Jennifer was also awarded The President's Award by Sandals Resorts in 2009 and its Hall of Fame award in 2015. 
Among bridal websites, Jennifer is a prominent fixture.  Theknot.com recognized Jennifer's niche market in the destination wedding arena and filmed her own wedding at Beaches Turks/Caicos, which continues to play on Beaches.com and Theknot.com.  In 2010, Jennifer's expert knowledge in the field of romance travel brought Martha Stewart to announce Jennifer as her Honeymoon and Destination Expert for Martha Stewart's Weddings Magazine and Jennifer continues to be a prominent fixture on Martha's website in the Q&A section.  Completing the big three bridal websites,  in 2012, Bridalguide.com enlisted Jennifer to be their online destination wedding expert.
With years of experience and vast qualifications, Jennifer Doncsecz, CTIE,  has served on many industry advisory boards including Delta Vacations, Travel Impressions, and AMResorts.
In 2012, the Centage Publishing group featured Jennifer in their University textbook "Access, An Introduction to Travel and Tourism" which is used throughout the country at universities (UCLA, Cornell, Temple, and Johnson and Wales) that provide tourism, resort and hospitality courses.  In March of 2012, Entrepreneur Magazine's book series published "Start your own Travel Business" in which Jennifer was profiled, followed and used as an example of a successful travel entrepreneur.  Stressing expertise, Jennifer is proud to have earned her certified travel industry executive degree (CTIE), and proudly promotes the benefits of working with a "certified" travel counselor.
A native of Santiago, Chile, who fled to America as a child during the political uprising of the 1970's; Jennifer developed her innate love of travel by spending each February of her young life touring South America to visit relatives. Having been to every continent and over 100 countries, Jennifer uses her expertise to guide her clients in planning unforgettable travel experiences.
Jennifer and her husband live in Bethlehem, Pa. with their 5 children.
Jennifer's Certifications
Testimonial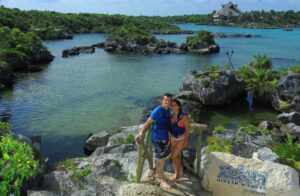 It was great!
The weather was incredible. Hot, but it was awesome. The beach was perfect. So clean. The pool was great. The grounds to the hotel were so clean. We were impressed with the great landscaping (might be because my dad is a landscaper and that's all I grew up looking at lol).
We did an excursion to xel-ha. It was incredible.
I am definitely looking to book another trip with you for next summer. I am looking forward to it, Jennifer!
Cristina Frasso - Florham Park, NJ - Secrets Playa Mujeres Vacation Testimonial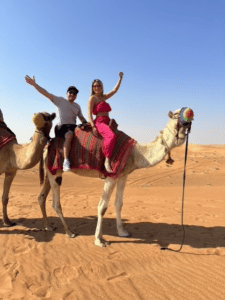 Thank you for booking this trip for us! It really was the best trip we have ever taken and we will remember it forever!
Amanda Diaz - Elmwood Park, NJ - Dubai and Baglioni Maldives Honeymoon Testimonial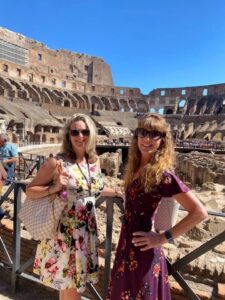 Our trip was PERFECT, thanks to you, Jennifer!  It seriously could not have been planned any better.  Every transfer went smoothly and each host was wonderful and helpful!
As for favorite city, it's so hard to pick one since they are all amazing.  We are partial to Positano, probably because we went early in the morning and it wasn't crowded.  The massive crowds kind of put a damper on things in Capri and Amalfi, but since we're a tourist I guess we cannot complain!  Venice was definitely the prettiest and most walkable, so thank you for pushing us to go there (that was the one city we were willing to skip!).
I cannot recommend Globus/Monograms enough.  I plan on taking my son to Italy next year and will definitely be contacting you for that.
Thank you again!  We so appreciate all your hard work on this!  You made it look effortless!
--
I concur with everything that Robin said.  It truly was an epic trip of a lifetime!  Everything was seamless.  It was wonderful to do stuff on our own and we also liked the group tours and met many fun people from all over the world.  It was nice to know that there was someone in each city in case we needed anything, include recommendations.  I would love to go back but also have the travel bug to venture elsewhere.  I would love to use your superior services again.  ?  I will also give your name to those who ask about our trip.  Everyone loved our pic and posts on FB.  We loved all the food and wine, too!  Thanks again!!!
Robin Mirsky & Phyllis Hartmann - Swedesboro and Denville, NJ - Europe & Italy Vacation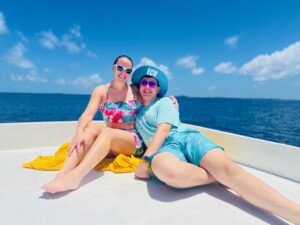 We are both trying to settle back into reality.
We had an absolutely wonderful time.  The weather was perfect. We enjoyed every minute of it - the food, drinks, excursions, spa treatments, you name it! Loved our room and the fact that we could go snorkeling right off our deck and see such a variety of animals!
Samantha King - Saint Albans, VT - Maldives Vacation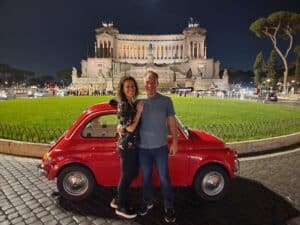 We had an amazing time. Jennifer did a great job coordinating the transfers and the excursions we did.
Hard to pick a best location as we loved them all!
We love the Private boat tour that you set up that was probably our favorite thing after the Audi tour. He was just awesome it was great to see all of Rome through his eyes and we were absolutely the most photographed people in Rome that night.
Richard Belcastro - Doylestown, PA - Rome, Amalfi Coast, & Capri Vacation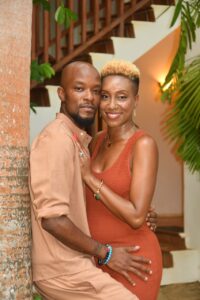 Thanks so much for following up and checking in. We are so grateful that Alicia recommended us for your services. My husband and I had a fabulous time in Negril, Jamaica at Couples Swept Away. It was perfect and the little slice of heaven we needed. While I was a little worried about the airline travel, we had no issues with our flights. We were 15min delayed departing from NWK but that is literally nothing compared to what's been going on this summer, in general, we had to fly around some weather on our way back from Jamaica but I have no complaints whatsoever. I would absolutely return to that resort again to explore further in Negril, in another year or so for sure.
You and your team were great in communicating with me and all of my concerns, I look forward to booking your company again for our travel needs as well. Here are a few pics from our fabulous time. Thanks again for making our dream honeymoon so smooth to enjoy!!!
Shea Zephir - Metuchen, NJ - Honeymoon at Couples Swept Away Negril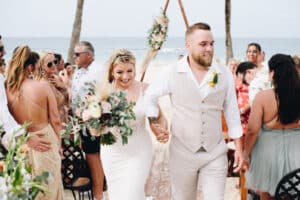 Life has been nonstop since the wedding lol
My favorite part about the trip was the wedding night! All 65 of us went down to the pool after the reception and jumped in fully clothed. The bartenders literally followed us there and made us drinks until morning. It was the best.
I enjoyed the beach the most at this resort! It was so beautiful and wide open. The water and sand were so clean and warm.
Of course you(Ryan) stood out to us at VIP as well as Jennifer. Hunter and I could not be more grateful for your kindness and patience with our guests. You both made this experience feel seamless and took that extra stress off of me which i will be forever grateful for!
Best wishes to you and the team, you are all truly incredible people!
Dezarae Rossi - West Greenwich, RI - Destination Wedding at Hard Rock Punta Cana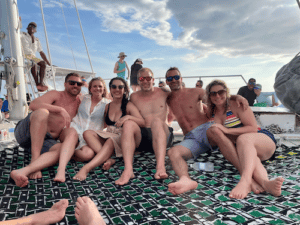 We loved it! See some attached photos :) Travel was super smooth. Everyone at the resort was so nice. Other than our honeymoon at La Toc I think this was my next favorite so far. We had great weather as well. Excursions (catamaran, Rick's cafe, fishing for the boys) were perfect & couples massages were awesome. Vow renewal was so lovely!  We had minor delays with our check in at the resort for some reason but luckily we had our friends rooms and swim suits in our carry ons! Our door's lock mechanism randomly broke too but their maintenance crew was attentive. We enjoyed being on the first floor with walk out patios. They were extremely accommodating with one of our friend's issues with food allergies. Food was awesome- Jasmine's, sushi, neptunes were our favorites for dinner and of course all the jerk chicken for lunch.
Cait Long - Robesonia, PA - Vow Renewal at Sandals South Coast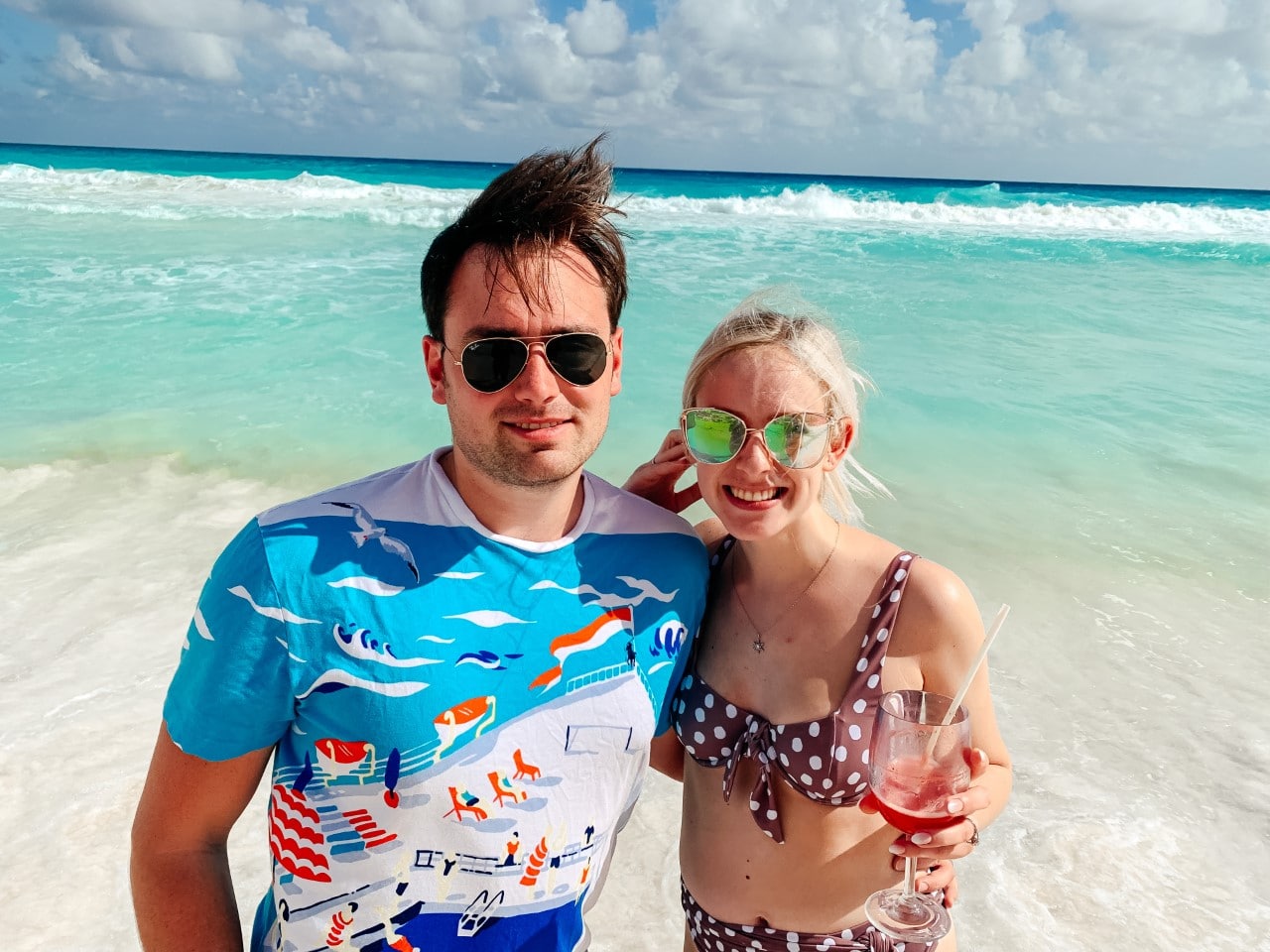 Jennifer Doncsecz from VIP Vacations Inc was very helpful when it came to booking our car service to get to the airport as well as home from the airport & booking our honeymoon at Le Blanc in Cancun. Jennifer was very attentive when it came to fluctuation in price changes when it came to booking our flights. She was also very informative & quick to respond to any questions or concerns. She also sent us instructions about what to do when we arrived to Cancun & how to find the correct transportation representative when we arrived. Jennifer took all the stress of planning & setting up transportation out of the vacation so we could just enjoy our honeymoon! We will definitely be going back to Le Blanc & reaching out to Jennifer with VIP Vacations!!
Lacey Bucher - Bethlehem, PA - Honeymoon at Le Blanc Cancun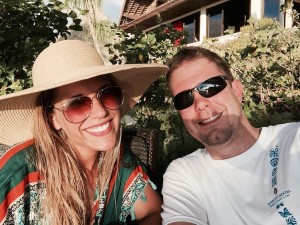 We just returned from our honeymoon today and I wanted to write to say THANK YOU for giving us the vacation of our dreams!
The accommodations were gorgeous. We did a little peaking around, and our hotel was by far the nicest resort on the island, and the rooms were the largest.
The excursions on our honeymoon registry were so much fun, and it was really helpful having the vouchers you sent over to confirm with the hotel concierge.
I've already given your name/company to a few friends inquiring about honeymoons and vacations. I can't say enough good things about what you've done for us!
In the future I'd love to continue to book trips though you and VIP travel if possible, I almost don't trust anyone else to provide such amazing service.
Thanks again,
Taylor and Aaron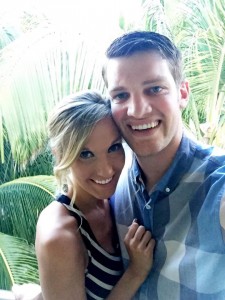 My husband Brock and I just returned from our honeymoon to the Riviera Maya at the El Dorado Royale Resort which we booked through VIP vacations.
We just wanted to thank you so much for suggesting this resort. We had an absolutely phenomenal time and loved everything about it.
The resort was absolutely gorgeous. I had never stayed anywhere so clean. They keep the grounds perfectly maintained, and every room, restaurant, and bathroom was so clean. The staff was so friendly and accommodating. They were always finding ways to make our honeymoon as special and romantic as possible. We came to our room which had a beautiful "Happy Honeymoon" sign, and rose pedals with swans on our bed. They booked us special dinners, and even allowed us to end the week with an unforgettable candlelight dinner on the beach.
The food was absolutely delicious. There was not one thing I ordered that I did not LOVE! We enjoyed every restaurant at the resort. I have food allergies, and they were so accommodating, always making sure anything I ate was completely safe, I never felt worried I would eat something I shouldn't. There were so many different options of restaurants.
There were many fun activities to do at the resort. We did khayaking, I did a SPINNING class on the beach, I did water aerobics, Brock played water polo, and we even painted our own souvenir. The shows at night were so much fun to attend after our amazing dinners.
Thank you so much for helping us to make our honeymoon the best week of our lives!!!! We would highly recommend this resort to any other of your customers!!!! We will definitely be going back!!!
Krisitna Bilger - Schnecksville, PA - Honeymoon at El Dorado Royale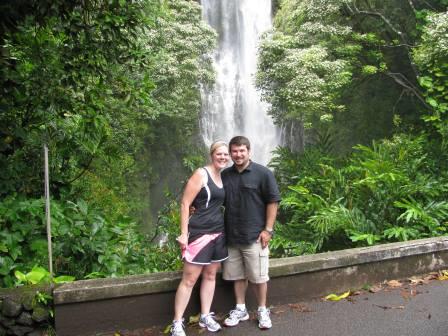 Jennifer and Staff of VIP Vacations,
I just wanted you to know how much we appreciated what you did for us in planning our trip. I can't quite find the words to express what amazingly great customer service you provide. It is what truly sets you apart from your competitors.
Jennifer, you responded to our emails insanely fast and oh so thoroughly! No matter how many questions or "possible" changes we inquired about. I never felt like we were bothering you. You are wonderful!
Hawaii is amazing! I loved the Honua Kai Resort. The Hilton on Oahu was nothing short of fabulous. but Maui was definitely more our style. Of course we both hope to return one day, but if life takes us on another path, I will always have this wonderful trip to look back on and we will cherish it.
We did get upgrades seats on our way over. So thank you for whatever transpired with that. It made for a relaxing 8 hour flight. I hands down would not hesitate to refer any of my family or friends to you. We hope to work with you again one day! A million thanks!
Meghan and Mark Karosky - Peoria, IL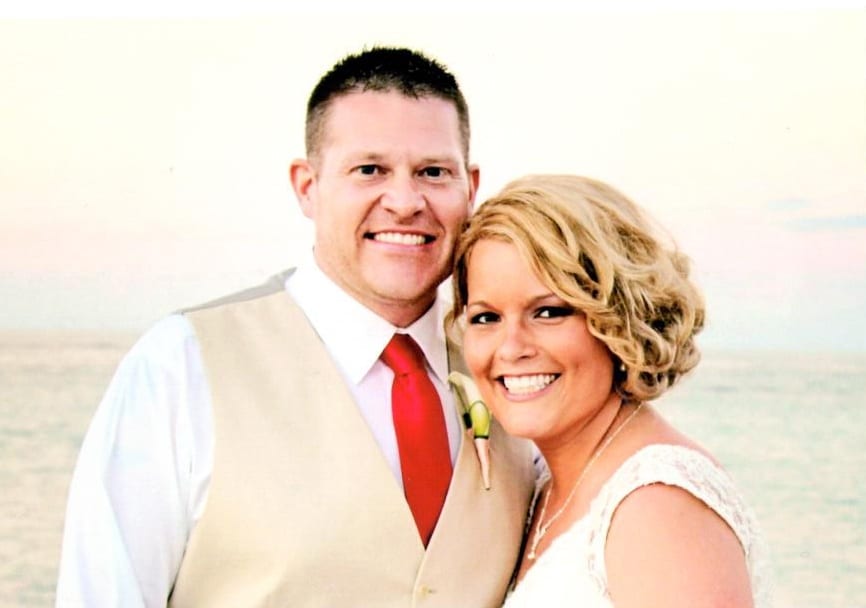 I can't thank you enough for all that you did for us to make sure our wedding day was perfect – and it surely was! It was all that we could have ever dreamed of and more – from our amazing room and resort to the gorgeous beaches, wedding decor, and reception – we had the time of our lives with each other, our friends, and our family. None of this would've been possible without you! We are so grateful that our paths have crosses and we will forever be thankful to you for helping us to have our dream wedding! You will always be our travel agent and we look forward to make more vacations by VIP! You are an amazing woman, wedding planner, travel agent and now also a friend! Thank you for going above and beyond for us – from all the planning to the beautiful personalized frame – we thank you! – See more at: https://www.vacationsbyvip.com/client-pages/laplante-ouellette/#sthash.oL6C8eaJ.dpuf
Erica and Keith Ouellette - Caribou, ME