Favorite Location:
Orlando, Florida
Favorite Drink:
Blackberry Gold Naked Apple Hard Cider
Favorite Song:
Mom Jeans - Danger Can't
Love our look?  Have you seen one of VIP's Ad's?
How about one of our videos?
Chances are, Justin is responsible for it.  In addition, Justin is responsible for creating all of the Save the Dates with VIP's Destination Wedding Brides and Grooms.
For his complete bio, see below.
Justin's Full Bio
I'd like to think I was born in Disney World.
I mean, I wasn't.
But my Mother, Jennifer Doncsecz - President of VIP Vacations-, attended the parks both while pregnant with me and when i was 5 months old; So... I think I can get away with it.
To this day, I've been to DisneyWorld more than years I've been alive. To my family, it's like a religion: we go almost every year.
Orlando holds a special place in my heart, as the place I will always be a child, no matter how much older I get or who I'm there with.
I've been traveling my entire life, it seems; and making memories has always been one of the most important aspects of traveling.
I've explored several regions -and the ancient temples of Chichen Itza- in Mexico,
I've experienced what it was like to live on an island in Roatan, Honduras -in Central America-,
I've seen the white sands of both Jamaica and Turks & Caicos more than once,
I took a cruise that sailed us all the way up Canada and landed in the tundra of Alaska,
I've seen all that Sandals and Beaches has to offer, having stayed at almost all of their properties since I was 12,
AND over the past 13 years, I've conquered the seas as an Open-Water Scuba Diver, having dived more than 16 times all over the Caribbean.
I graduated from Temple University's Tyler School of Art in May 2017 with a Bachelor's Degree in Visual Studies and I've been designing ads, banners, postcards, and Save the Dates for VIP since February of 2015. In July of 2018, I stepped into an additional role as a Travel Support and Consultant to help families achieve their dream Disney Vacations. As far as Orlando experts go, look no further than VIP's Ryan, Justin, and Megan; it's in our blood.
Justin's Certifications
Testimonial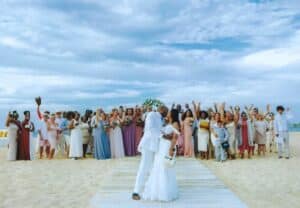 Damion and I can't thank you enough for helping us navigate our destination wedding. We appreciate all that you did for our large group! We know it isn't easy trying to accommodate everyone's requests so we thank you for doing your best in making everyone comfortable. You guys were really great! Our Wedding went off without a hitch and we can't thank you enough. Our room was absolutely beautiful and our travel was easy and fast. We were surprised at how great everything turned out! All the behind the scenes details didn't go unnoticed.
Thank you!
Kate and Damion Morgan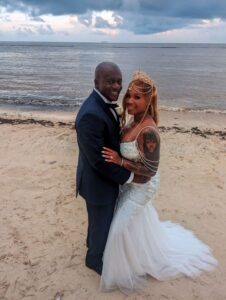 I would like to take the time to thank everyone at VIP for working with us and creating a magical moment. Everything turned out great and we couldn't have been happier.
Everything was simple if you followed the steps provided by VIP. While I had issues, those issues did not take away from the great time we had at the resort.
The staff at VIP were amazing. Special shoutout to Justin and Emily. Speaking with each of you felt like speaking with a friend. Justin did an amazing job keeping the guest in line with their reservations and payments. Emily did a wonderful job coordinating the wedding. James and I are completely pleased with the service you all provided.
Thank you again for everything. It was amazing.
Felicia Davis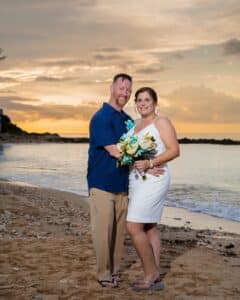 The ceremony was my favorite. The weather was definitely unpredictable, but the wedding day was absolutely perfect.
It was an amazing time despite all the rain and would definitely go back there again. Everyone was so nice.
Thank you all for helping us with this process as it was very overwhelming, but you made it less stressful.
Danielle Grande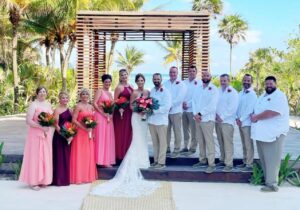 We all had a fantastic time. The resort was amazing! It's absolutely beautiful inside and out! The staff was so friendly and always helpful. The wedding was flawless, everyone had such a great time. We all made everlasting memories at UNICO! Thank you, Justin, for all your help with planning this beautiful wedding!
Jane O'Dell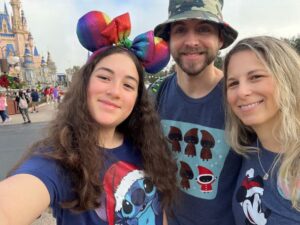 Disney was fantastic. Beach club was amazing ( as always)?
Ale and Compass delicious. Every park was decorated beautifully and everyone was in the Christmas spirit. The fireworks and parades were amazing. The Very Merry Christmas Party was soooo much fun . I would highly recommend it. The snow, the fireworks display, the cookies. So worth the extra money. Crowds were much lower and we just about walked on every ride that evening.
Being able to be at Disney for the 50th was very magical. What a great birthday celebration. Thank for for helping us make this trip special. Your expertise with planning made it even better. Oh and make sure you check out Sebastian's Bistro. I cannot say enough. Hands down family's favorite meal.
Christy Rute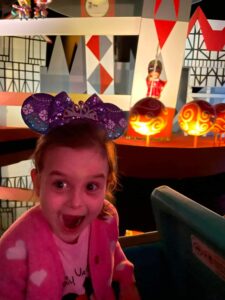 Our trip to Disney was a success. We enjoyed Magic Kingdom twice, Hollywood Studios and Animal Kingdom. There were many highs and lows of the trip, but on the last day I had tears in my eyes when we left the park because I felt so grateful to experience this with them at this age. The magic in their eyes made it all worth it!
Special shout out and thanks to Justin Doncsecz for helping us make this trip a success. The kids can't wait to show uncle Justin their signatures. <3 We made sure we brought our 'Minnie' and 'Mickey' to the park and the ears were such a sweet gift! Thanks again for planning the trip. You did great! I wouldn't have changed anything.
Josh, Jessica, and Iachini Family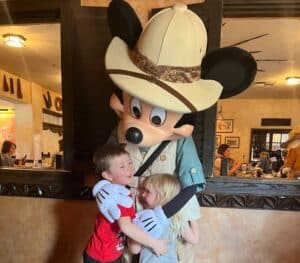 Our trip was perfect. We all had such a great time and can't wait to go back and do it again!
We encountered zero issues. We would likely do everything the same next time. We would love to book again! Of course we would love to try a resort closer to either Magic Kingdom or Epcot.
I really appreciated your help with doing all my research on attractions and entertainment. Also, all the food and snack tips.
Thank you for all of your help. We had the best trip. It was wonderful for the kids' first time at Disney!
Kelly Nearhoof and Family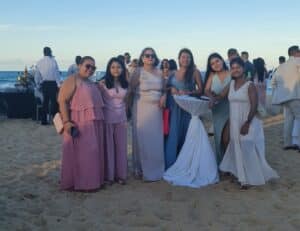 Hi Justin. Thank you for your help. The trip was an awesome experience, from the arriving at the airport to the immigration personnel to the very friendly driver to the resort to the dreams resort stufff the best. Looking forward to return to Punta Cana.. here is a pic from one of the best moments there.
Ferney Arboleda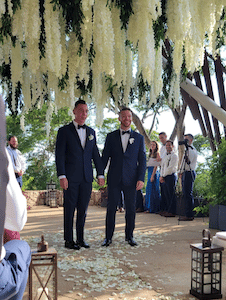 Thank you so much for everything you did for our trip, Justin. It was fantastic and beautiful. Everything was perfect from arriving into Mexico taking the shuttle to the hotel and checking into the hotel with no worries. I will call you again when it's time for next year for our vacation.
Maryann and Robert McCauley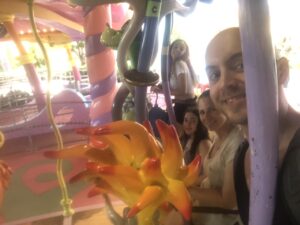 Our trip was amazing.
Sapphire Falls was beautiful. It was very clean and smelled amazing(similar to Disney's Beach Club). The room worked out great for us. The girls really appreciated having their own space. Easy walk or water taxi to parks and nice view.
Parks were great. Chloe went on every rollercoaster :)
We loved Velocicoaster. Chloe especially like Hulk and Hagrid's (my child that hated rollercoasters).
Thank you for all of your help and making our trip special.
Christy Rute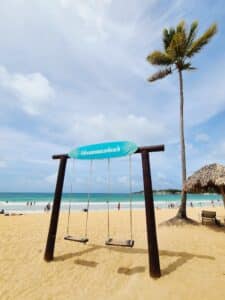 I appreciate Justin and the rest of the VIP vacations team for organizing my trip before I flew out. They took care of the work up-front and all I had to do was show up and follow-up to enjoy my cousin's destination wedding.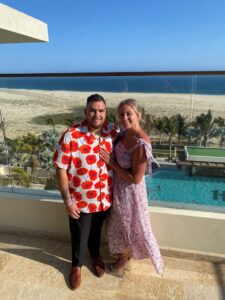 JUSTIN DONCSECZ! I have nothing but positive things to say about him! I'm happy you reached out because I was going to ask him if there was some way to submit a review.  He answered all our questions, was available anytime we needed him and when we were dealing with an outside issue from another travel agent, he went above and beyond in a way I wouldn't expect! I would 10/10 recommend him and would book with him again! I'm a little sad that we have a travel agent for our 2023 destination wedding because I would have loved to use him!! :)
Brittany Trester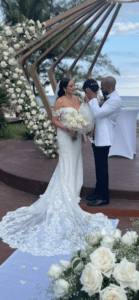 Ryan was absolutely amazing with helping me through this whole process. As well as Justin! I would definitely recommend VIP Vacations to anyone! And I would recommend The Fives for a vacation, but not for a wedding.
I want to thank the whole VIP Team for helping me this past year! It has been a whirlwind of emotions but it is finally over and the wedding was amazing!
Kareena Rosario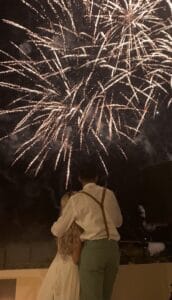 Thanks for checking in on us and a bigger thank you to your whole VIP team! They have truly been amazing. From their quick responses to their willingness to help me and all my guests with a positive attitude, working with them all has truly been my pleasure!
We found VIP from another of your couples, Tiffany and Erwin Argonza (May 2019). We found the process of booking everything all at once with your company very easy and stress free. So I can only hope that one of my guests found it to be just as easy and to think of you guys when they decide to get away. Was definitely helpful that all questions regarding travel policies, COVID policies, and etc were able to be answered by most teammates. Definitely showed that you had experts monitoring such changes and could easily give out the correct information.
Again, thank you to your whole team. They made so much of this process so easy, especially at such an uncertain time.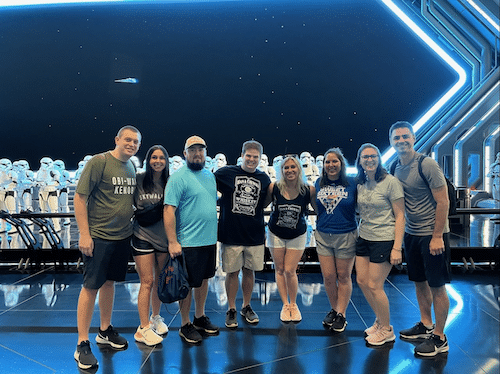 We had an AMAZING trip!!! We stayed almost until park close every day, and were there first thing in the morning... it was certainly a jam-packed trip! :)
On Thursday, we got in and settled, and made it to the park by 12:30pm.  We ate & drank around the world, and rode as much as we could! We ended in Mexico with tacos and margs  -- very successful day!
Friday, we did Hollywood Studios, (and I'm SO glad you told us to do it on a Friday and not Saturday).  We spent most of our time in Galaxy's Edge, and then once we had done about everything there, went around to the rest of the park.
Saturday, we did part 1 of Universal -- we rode the Gringott's ride, took the train to Islands of Adventure, and then spent the rest of our day in Islands of Adventure.  The Hagrid ride is AMAZING.  The DROP on that ride?!??!! OMG did NOT see that coming!! We all loved it!
Sunday, we did part 2 of Universal -- rode everything that we missed in Universal Studios, then rode everything that we didn't have a chance to in Islands of Adventure.
Our favorite collective moments of the trip were both Star Wars Galaxy's Edge (and watching everyone's reactions who haven't seen it yet), and Harry Potter World.  Both Tori and Sam got choked up after riding Rise of the Resistance, and it was amazing being able to ride it again! Additionally, I think everyone had a BLAST on Hagrids as well as the Velocicoaster -- the group ended up riding it like 3-4 times.
As always, you are an AMAZING travel agent, and we all appreciated your time and hard work to help make this trip wonderful!!
Thanks again for everything, we appreciate you! :)
Stephanie & John Roam and Crew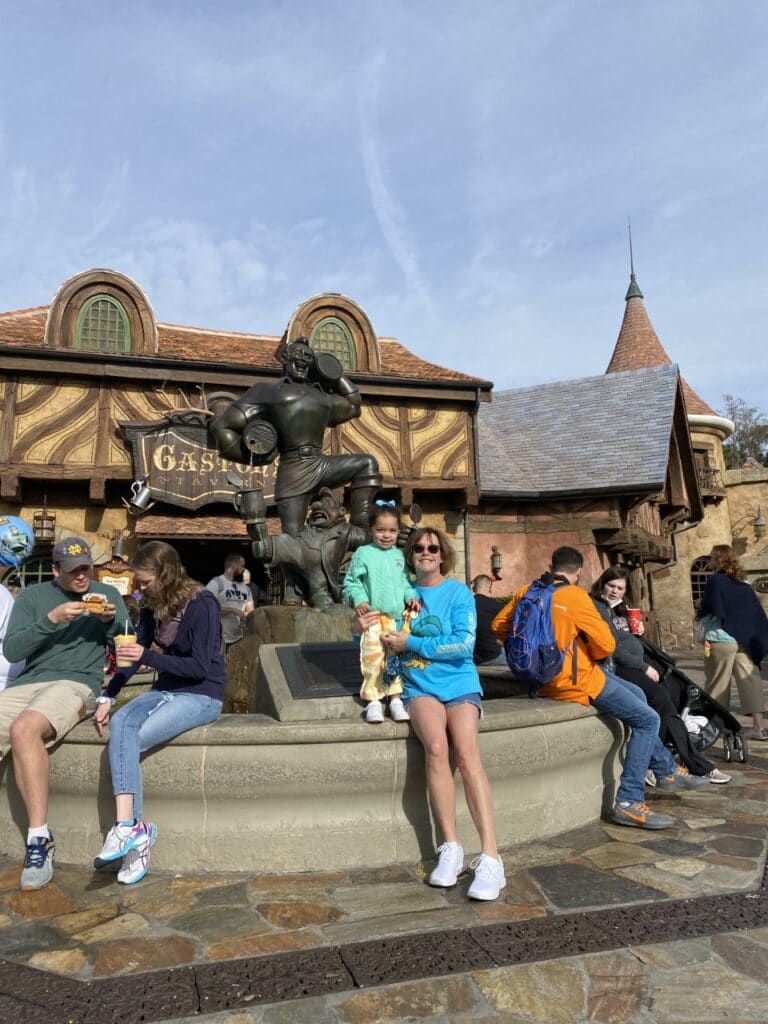 It was a wonderfully exciting time. We did so much. The parks were a lot different than when I was there 24 years ago. Rick wants to go back alone w no kids ? he wants to do Epcot and Hollywood studies. The days were long but well worth it. Everyday we all swam at the pool every day and even managed to spend hours at typhoon lagoon. Which I believe was one of Ellie's favorites.
Cynthia Evans & Family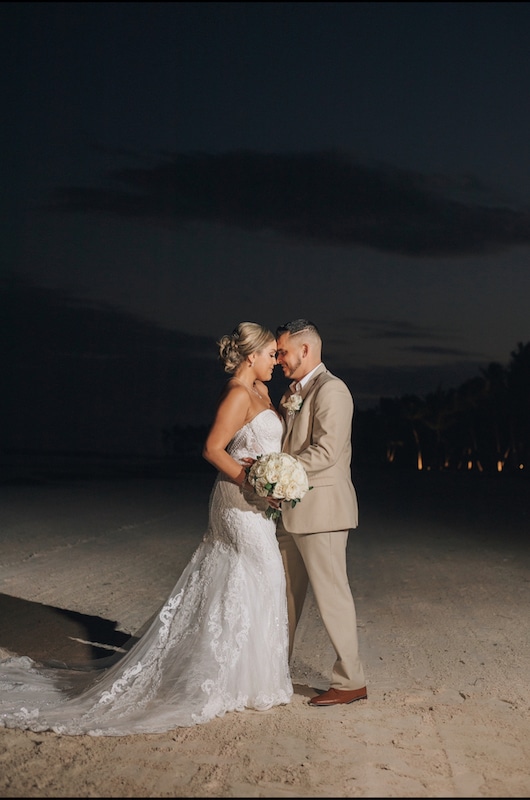 My husband and I can't thank you guys over at VIP enough for all of your help in putting our wedding together ! Everything was PERFECT and we owe a lot of that to you guys over at VIP. From the initial call to literally the day before our wedding VIP never stopped helping us and we are very grateful!
I'd like to especially thank Justin and Liz for all of their help. I know I probably gave poor Justin a few headaches but he always went above and beyond to help us and make sure our wedding was perfect and all of our guests were happy. Liz as well, thank you guys so so much!
VIP went ABOVE AND BEYOND, I can't thank you guys enough!!!!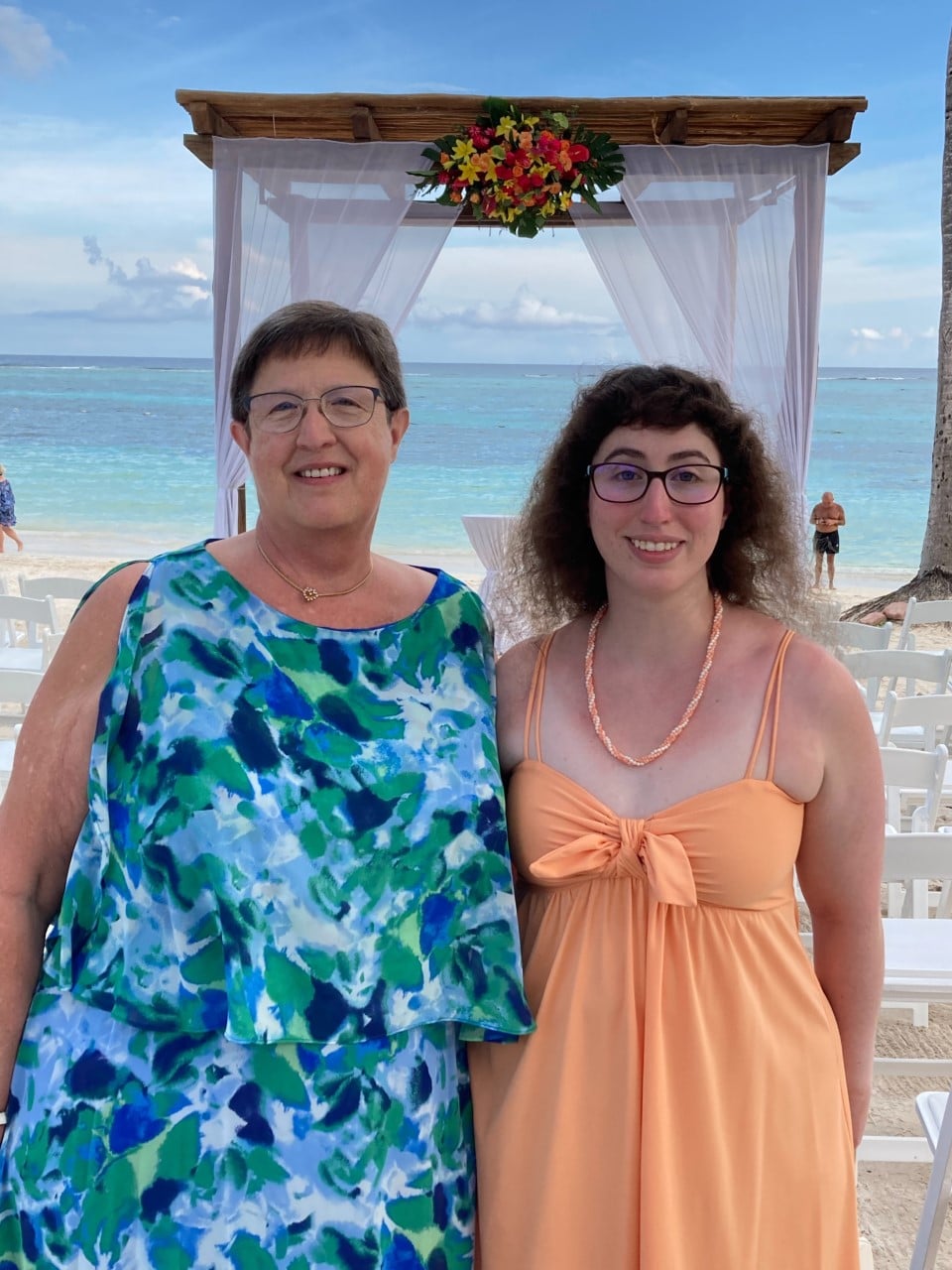 I am extremely thankful to your company for answering all of my questions and especially for sending out the emails with all of the links for forms to be completed, tax to pay, health forms etc. I completed all of the forms for the 3 of us from home, which made the airport much easier and faster to navigate.
Thank you to Justin for all of his help and information!
Ilene Weiss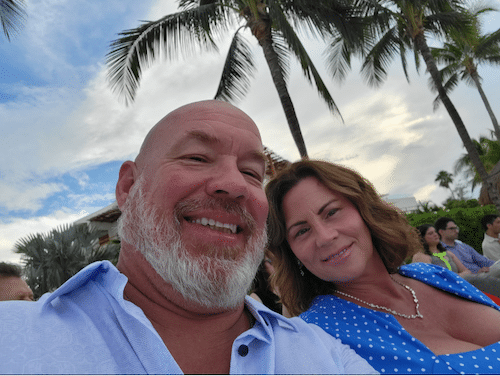 I would use VIP because of Justin. He was extremely helpful throughout the entire process and i never felt like i was being a bother.
Brian Cain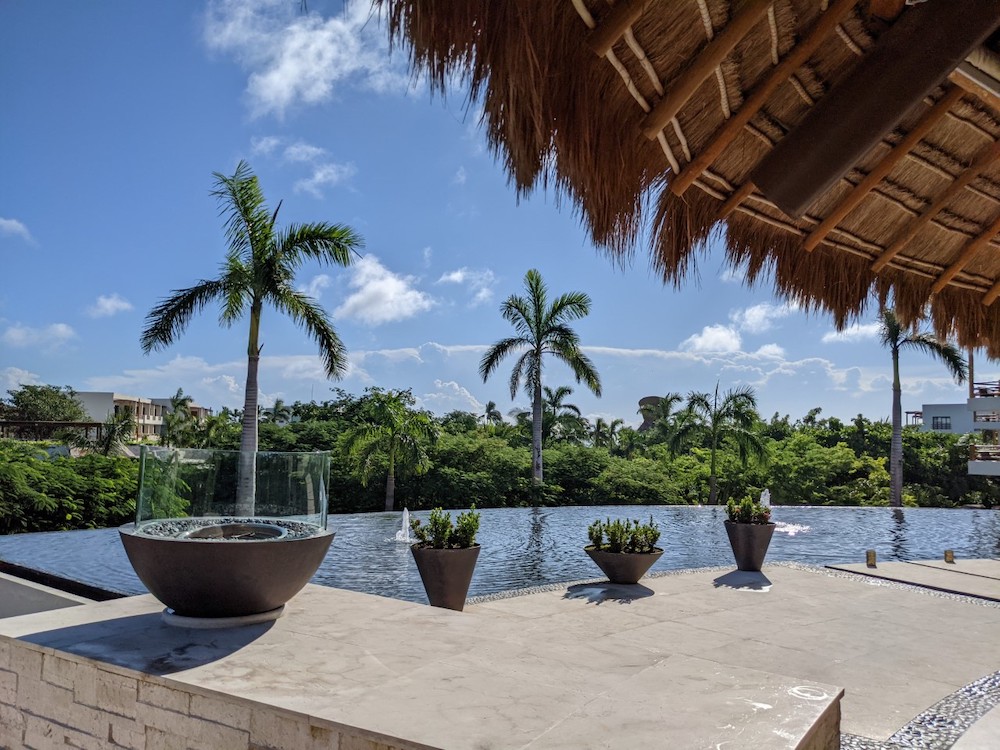 My girlfriend and i truly enjoyed the trip. Justin Doncsecz was really patient and helpful throughout the process from A-Z!
Anthony Elias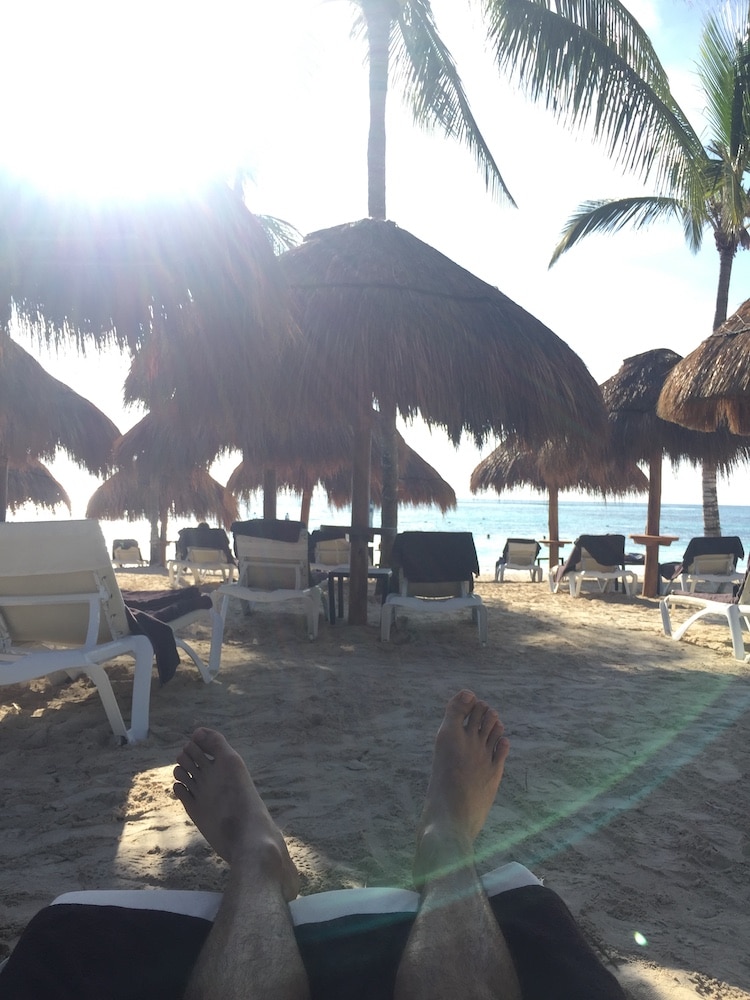 Justin Doncsecz is amazing, always kind and helpful. He booked everything for us, we got all the instructions on how to have the easiest trip possible, we followed his instructions and everything went well, we really didn't have any problems at airports and with transportations. And it was because we followed everything Justin told us to do, thank you so much Justin.
Thank you all at VIP Vacations, we enjoyed our trip, a lot.
Rogerio Fujihira Adegas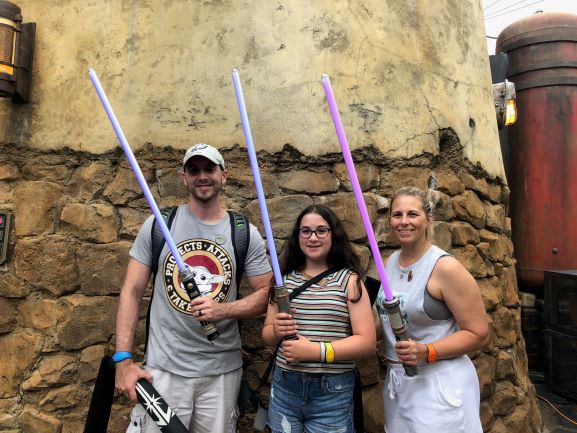 We had an excellent vacation.
The location of the resort was fantastic. It was so nice to be able to walk to Epcot and Hollywood especially at night having that option with park hopper. We were able to watch Epcot fireworks from our room. Boardwalk was fun at night and the pool was refreshing after long days in the park. Oh and the smell of the beach hotel was amazing. Super clean rooms.
Some of our favorite moments were at Star Wars In Hollywood. We made droids and savi's lightsabers. Got on Rise to the resistance and millennium Falcon twice. Avatar Flight of Passage was incredible. Chloe really enjoyed the countries in Epcot. Favorite dinner chef de France. Chloe was so nervous all week researching Tower of Terror how far drop was and we had to wait until last day for our last ride. Crying in line and then…. "That was my favorite ride. I wish I would have gone on earlier" so much more I could say.
Didn't want to leave but our feet did?. So many incredible family memories to cherish. Thank you so much.
Chloe wore those Minnie ears all day every day!
Christy Rute and Family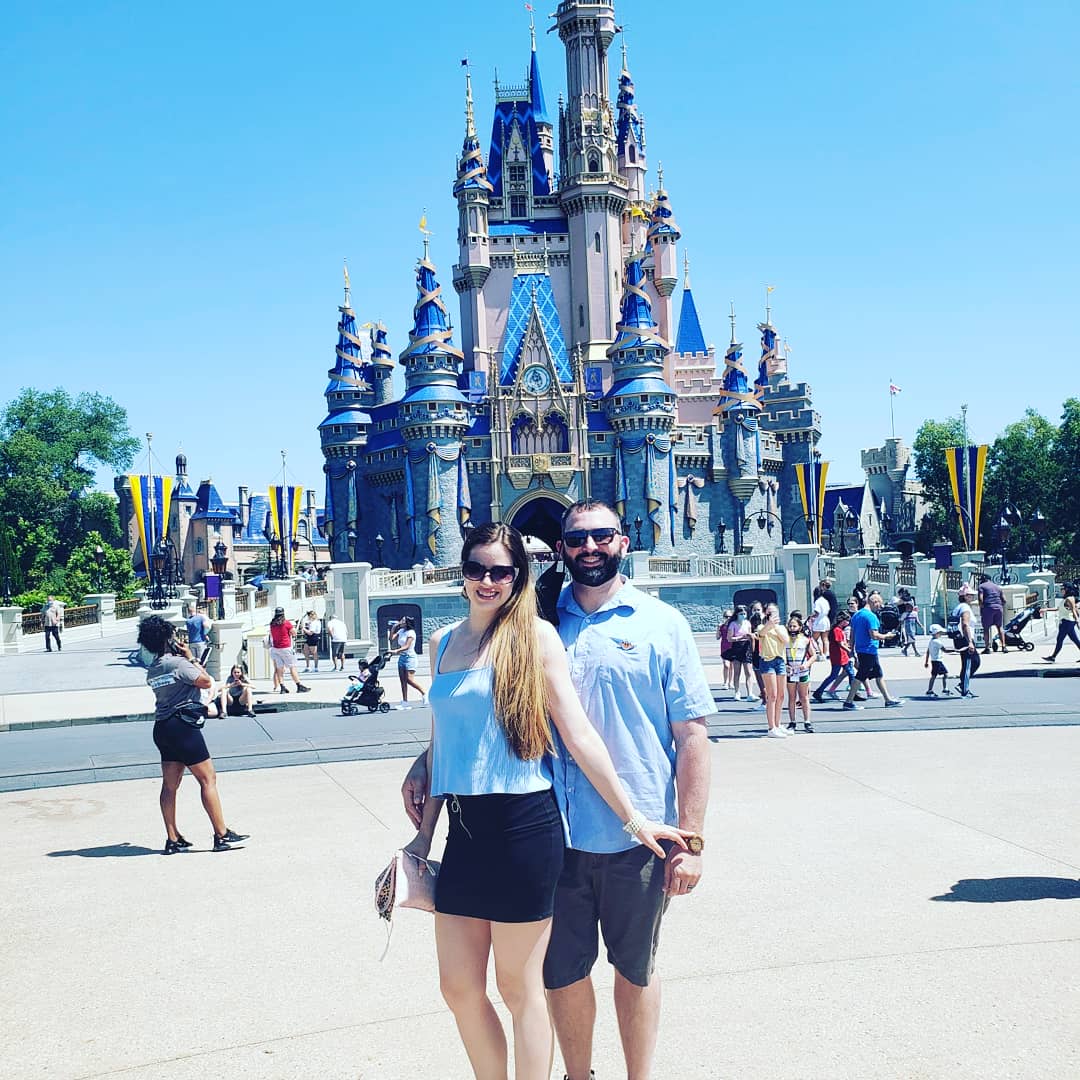 It was amazing! Thank you soo much! We will be going back again!
You were great! I told my husband we'll be using again in the future!
Sarah & Jerick Volkert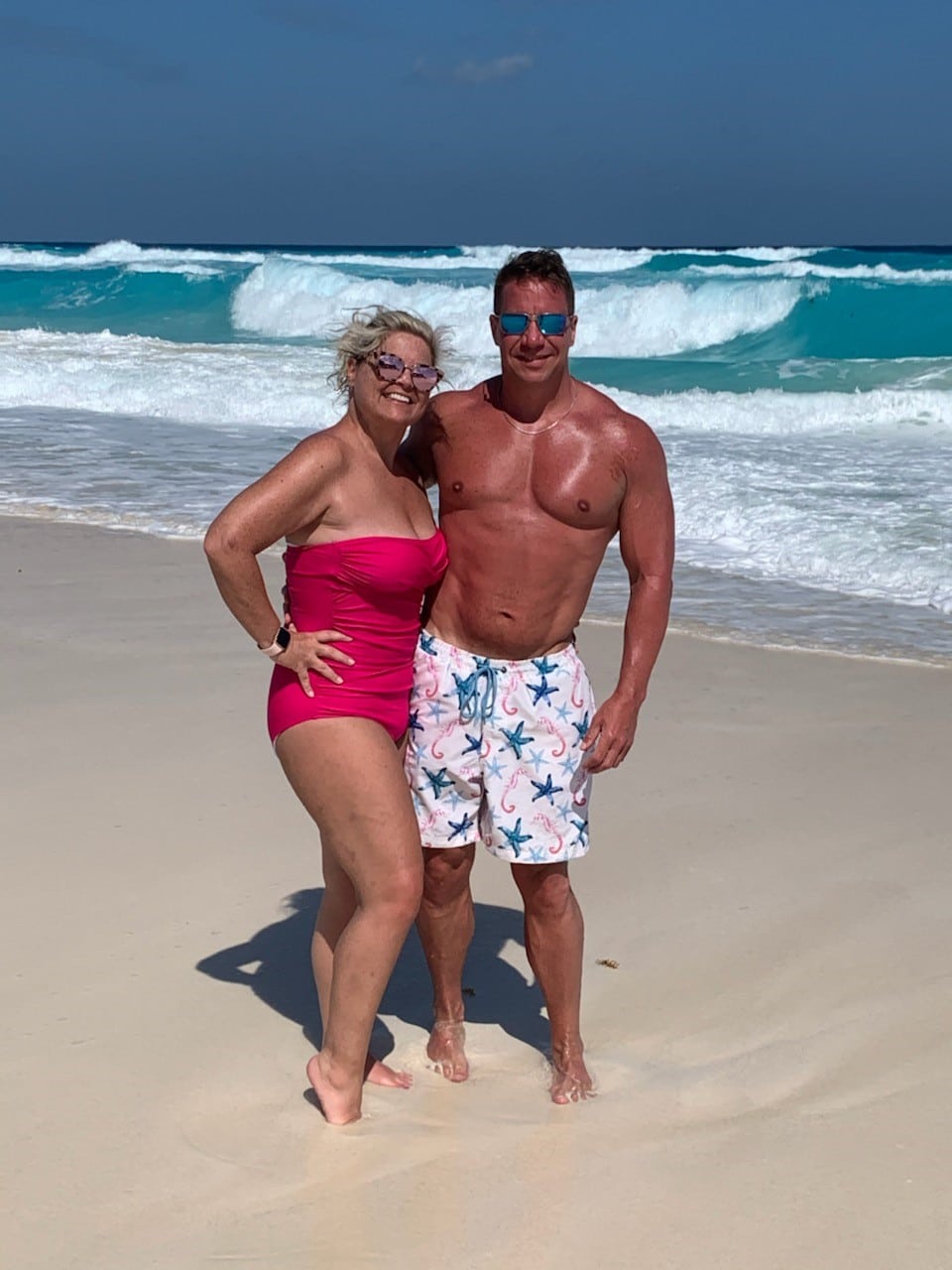 Thank You VIP Vacations for the Best Vacation last week in Cancun, at Secrets on the Vine! If it wasn't for Ryan and Justin working their hardest to make sure our Vacation was perfect, and they got us the Best Room of the Master Suite anyone could ask for! This is our second trip with VIP, and guess what?!?!? We are going to only use them going forward! They make vacationing relaxing, stress free, and they do everything for you! Best prices on resorts, amazing upgrades we received, nothing but the Best Service!
Sharon Chlebek & Jeff Carpenter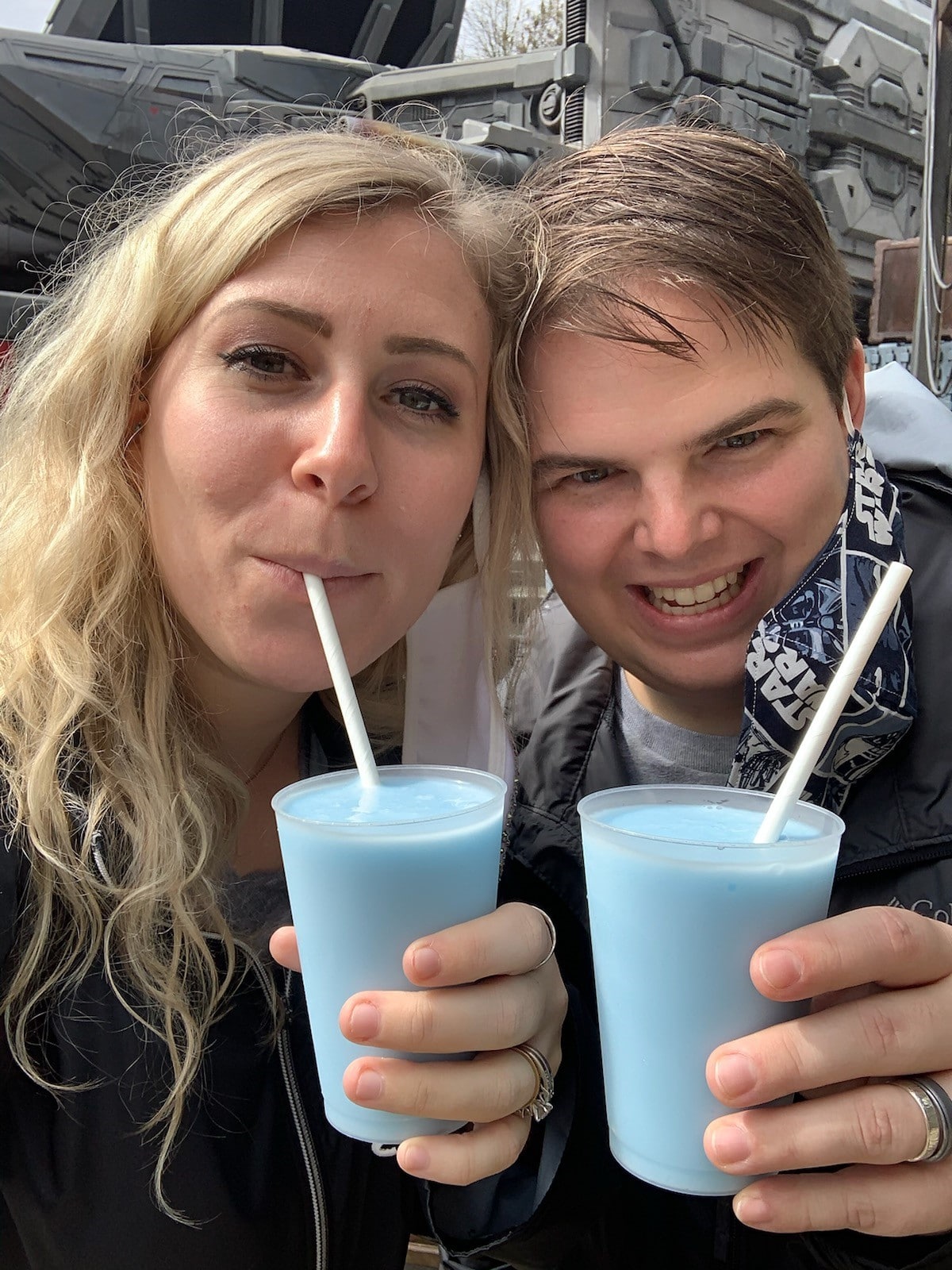 Thank you again for all your hard work -- words can't express how much we appreciate all that you did! It was an absolutely incredible trip, and we couldn't have done it without all of your help. :)
Stephanie & John Roam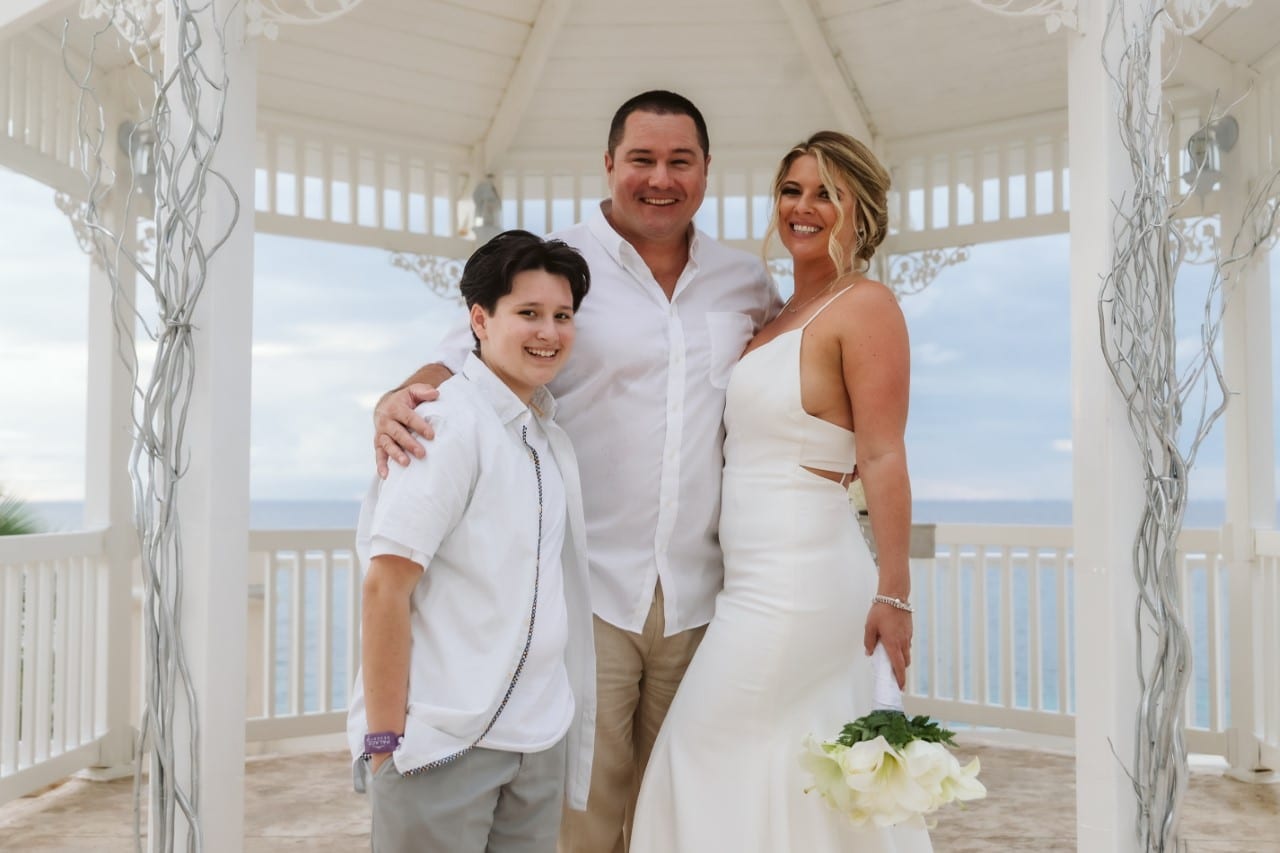 Thank you so much for the lovely card we received from all of you truly put that extra special personal touch on the whole experience.
We are slowly recovering from all that is destination wedding shenanigans but I wanted to send a response and tell you how truly amazing the whole team at VIP was through the whole process. I don't know if I recommend a destination wedding during a pandemic but if someone's gonna do it they can't go wrong using VIP actually you better or you might lose your damn mind Lol!
I mostly was in contact with You(Justin) and Ryan and Robert and I was truly grateful for all your insights and help throughout the entire process. Ryan had to send so many emails addressing my concerns and questions and was amazing! You and Robert also dealing with all the guests and their crazy changes... I know many others did things in the background and I'm sure it takes a team so I appreciate each and everyone of you!
Stephanie Gibbs & Dominick Sebastiani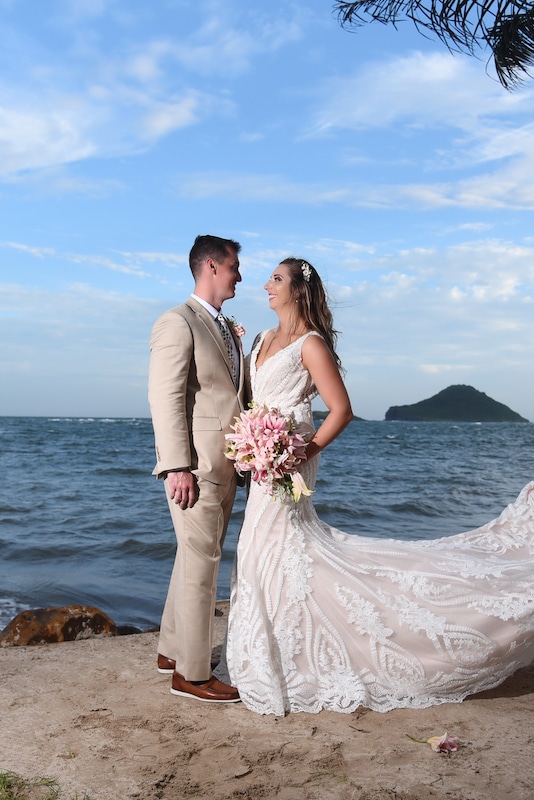 Thank you to the entire VIP team for everything that you did over the last year and a half to make our destination wedding a reality, even throughout a crazy pandemic. We had a great experience working with VIP pre-Covid and admittedly hit a bit of a rough patch when it came time to postpone our trip back in March. Through all of the immense stress and uncertainty at the beginning of the pandemic, VIP stuck by our side and we were more than happy to stick by yours. You made our lives much easier by handling all of the changes with the resort and airline and we can't thank you enough for taking that weight off our shoulders.
Ryan was a pleasure to work with- no matter how odd my questions were, he always responded in a timely manner with a positive message and kept us informed on new bookings. We have some difficult members in our group so I'm sure we weren't an easy group to deal with! I also heard from several guests how helpful and polite Justin was in answering their questions. It was very reassuring for us to hear all of the positive feedback from our group about VIP, and it proved that we made the right decision in trusting VIP with our trip.
Kate & Alexx Sites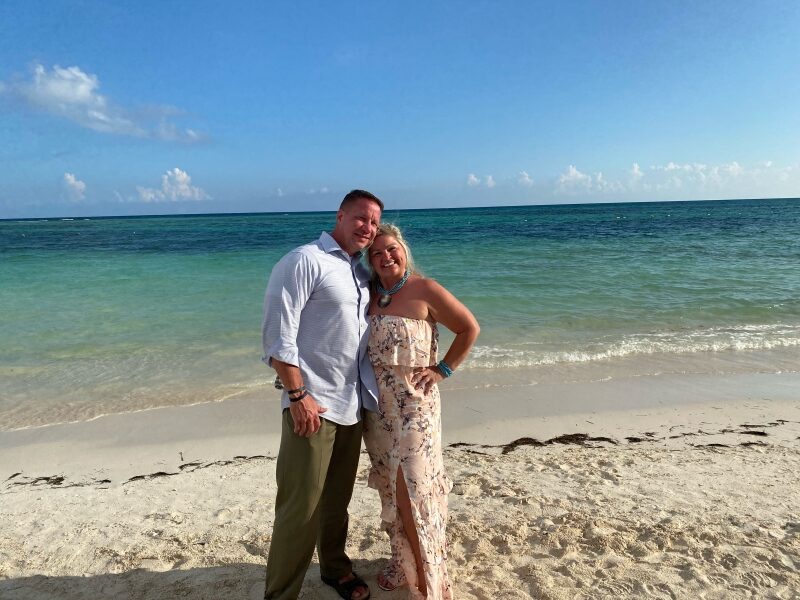 Our vacation at Secrets was amazing! Just unbelievable! From the service to the room to the pool and ocean, just Amazing! There was no just one best part, all of it was the best part, including Bob & Sam's Wedding! Just beautiful and perfect! We had the best time! I said, we will only stay at Secrets from now on!
I can't Thank both of you, Justin & Ryan so much, for everything you do and have done to make that trip and wedding the best, and it was!
I can't wait for our trip to Secrets on the Vine in March, that I had the pleasure of you guys setting up for us also!
You guys are the best!!!
Sharon Chlebek & Jeff Carpenter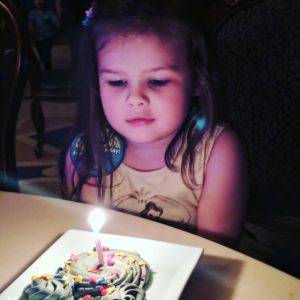 The trip was great!! Mia absolutely loved the Magic Kingdom – it was definitely so magical for her. Our favorite dinners were the 50's primetime and of course the Be our Guest dinner was amazing!!! We all loved the pool and the weather was great for the most part! Definitely happy to have the experience and so amazing to watch Mia be in awe!
I will for sure be back to VIP – I have used the company several times for different vacations and you guys always do a great job. The trip was seamless, the resort was great, and it was MAGICAL!!
Ashley Federsel & Family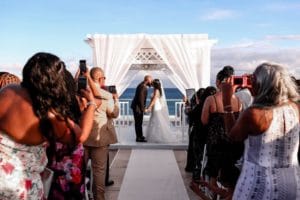 Dear VIP team,
Thank you so much for helping us plan our destination wedding! We had 80 quests join us to celebrate our wedding at Azul Beach Resort Riviera Cancun. The resort was beautiful and the service there was great! Special shout out to Liz, Emily, Justin, Robert, and Ryan, you guys are true professionals and were so pleasant and helpful during all of our interactions ever step of the way. I had no idea how to plan a destination wedding and you all stepped in and made it easy for me. You guys were organized, provided informative tools & checklists, answered all my questions and helped me feel comfortable with all my decisions. Our wedding was everything we imagined it to be and more. Everything turned out beautifully, just as Emily assured me it would. We had such an amazing time that we wish we could relive our wedding day again! All of our friends and family also enjoyed there stay during our wedding weekend and they're now asking us to arrange future family vacations with the VIP team! We appreciate all you've done to help make our wedding day memorable and special! The wedding card with well wishes from the entire team and the personalized gift were very touching. If anyone is looking to book a destination wedding, look no further than the VIP team. You guys are the best!
Thank you,
Nakeisha & Darrick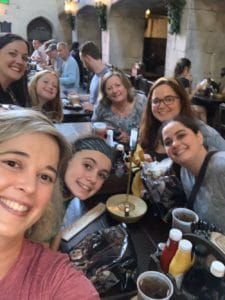 We cannot thank you enough for this experience!!  It was beyond amazing and so incredibly fun!!  Universal was outstanding and extremely efficient at everything (even the bathrooms were great)!  Personally, I've never had a better experience at a theme park!  My 12 year old self definitely came out this trip!  Harry Potter World was the greatest thing I've ever experienced!  Everything was so detailed and all the rides were FANTASTIC!! We only had to wait 2hrs for Hagrid's ride. :)  We rode Gringott's and Forbidden Journey a couple times each!  Also, our Maddie was chosen for the Wand show!!  The pictures speak for themselves and we will send some more.  I've included some pictures for you!! Again, thank you so much for all the help on this trip!  I'll be needing your services again soon, we'll be taking my daughter to Disney World soon and believe I have a couple of siblings looking to do the same.  We'll definitely reach out to you for that!
Katie Newton & Family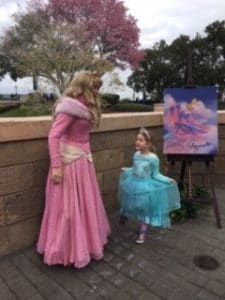 Thanks so much for the very passionate response.  My only delay in getting back to you was due to the fact that we have been on the go nonstop the last two days! It has been a magical vacation, especially for Ainsley!
I attached a photo of her from today meeting Aurora (one of about 8 princesses she saw). She is having the time of her life!
Can't believe we only have one more day here and then it's off to the cruise!!
Marika Taylor & Family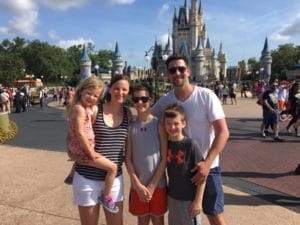 Universal - The fast passes made the day - and I would pay that all over again.  We rode EVERYTHING twice - and our favorites three times.  Minions was amazing for Cecily, Josh and I and the boys all loved transformers, they did rip ride rock it a bunch of times, and we like the revenge of the Mummy also.  Cecily could ride EVERYTHING in the park except for the revenge of the mummy and rip ride rock it.  I was surprised by this - and not only could she ride it - she LOVED everything!  We covered the entire park, every square inch, didn't miss a ride. We really enjoyed ET - that was nostalgic for me and the boys liked that I had ridden that as a kid.  When I say we covered that entire park - I mean - we missed nothing.  Harry Potter was REALLY hard to find (we must have passed it a dozen times) - but we LOVED it!  There was probably a 2 hours wait and we literally walked on within 10 minutes.  It was a hot day, but it was a nice day.
Disney - Ohhhhhhh Disney.  So day 2 was Magic Kingdom.  We got there at 9am and stayed until about 6pm.  We did the most here and hit up pretty much everything we wanted to see.  What we loved most about Magic Kingdom was Cecily being able to meet the princesses Cinderella, Tiana, Rapunzel, and Elena of Eleanor. She was star struck, speechless, and in total shock.  It was the absolute best moment of the trip for me and my husband and for Cecily.  The boys got to do space mountain, and I got to go on the nostalgic rides that I remember as a kid like "it's a small world".  As we were leaving there was a big Mickey parade celebration going on that we stopped and watched, which was fun to see - it felt very complete. I would pay extra money to purchase fast passes similar to Universal, but I guess that would be tough for them to offer.
Since we've been home, they all talk about how Disney was the best part of their year. Which is all you can ask for!  Justin - you were truly so helpful to me and really gave me a lot of good tips.  For example, showing up to fast pass appointments early, and getting a wink and a go ahead was awesome. You were so knowledgeable and really prepared me for what to expect.  I appreciate it so much!  If we ever book Disney again, I will be SURE to go through you.  I'll send anyone I know your way that needs a Disney expert!
Beth Whitlinger & Family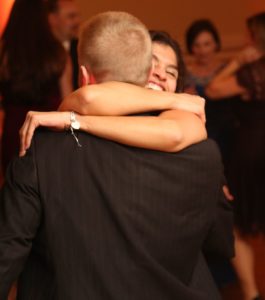 You have been the man. Thank you so much for everything. You definitely delivered, Justin, and I can't thank you enough. The Save the Dates came out great and Ryan loved them. I'm extremely happy and I couldn't thank you enough. You are just amazing Justin and thanks again for making my "Save The Date" all I could ever ask for.
Vivian Izquiero and Ryan Radel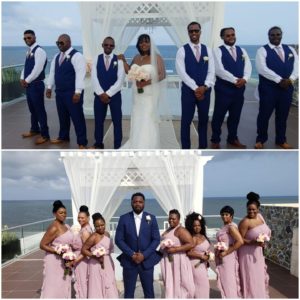 On behalf of Braheen and myself, we would like to thank the entire VIP team for everything you did to make our dream of a beautiful wedding a reality. It was EVERYTHING we could have dreamed of and more. The resort was beautiful, the staff was awesome and the food was delicious. As you know, we had an astonishing 85 people come out. That, in and of itself, was amazing! They are still talking about the great time they had. So much so that they want us to have an annual getaway. It's something we may consider after we purchase our home.
Everyone at VIP were helpful. Of course I have to give a huge shout-out to Emily, Ryan, Robert and Justin. They not only took care of Braheen and I but they also made sure our guests needs were met. We worked it out and everyone made it there and back safely and that is what matters most.
The resort itself was beautiful. Our room had a breathtaking view overlooking the ocean. It was sexy and relaxing (as per my husband). We enjoyed sitting on the balcony enjoying the sunrise and sunset. It was truly amazing. The pools were warm and comfortable and the service was impeccable. We enjoyed a spa treatment for Braheen's birthday (May 21) and went on a few excursions. The candlelight dinner was also very nice. The overall experience was awesome.
Thank you ALL again for everything, it was an awesome experience.
Latisha and Braheen Cotton