Favorite Location:
At the Swim-Up Bar
Favorite Drink:
Espresso Martini
Favorite Song:
The Head and the Heart - Rivers and Roads
Penn State University Graduate Megan Doncsecz says living abroad only made her want to travel more!  Furthermore, travel is in her genes!
Some of Megan's most memorable experiences include hang gliding in Switzerland.
In addition to travel, Meg also adores her puppy Odin.   For her complete bio, please see below.
Megan's Full Bio
Growing up in a household where our fondest memories came from family vacations, travel was more than just a business that I was quite literally born into.
If there is a gene for wanderlust, it was a dominant gene that I was born with. I grew up appreciating the joy that can come from a family vacation, the bonding that can happen when you travel with friends, and the romance that can be felt when you are on an adventure with that special person.   
From dining in the Eiffel Tower, or hiking the Grand Canyon, to seeing the history of Chichen Itza in Mexico, and discovering new cultures while collecting passport stamps, these experiences were precious and never taken for granted.  
When it was time to decide what I wanted to study in college, my first and only thought was Hospitality Management. Graduating from a top ten school for HM (We Are!!), I was able to study abroad in Europe, work for numerous restaurants and gain knowledge of multiple facets of the hospitality industry...but there was something that always drew me back to home and the business that my family built.
Having the opportunity to take all of my past travel experiences and put them into my work, is why VIP Vacations is the perfect match for me. I can't wait to assist guests in finding their inner child, discovering new locations, spending time with those they love and creating lasting memories one destination at a time. 
Megan's Certifications
Testimonial

Ashley Stokes
Andrew and I had the most beautiful time in Greece. Everyone at all the places we stayed was very helpful and attentive. We absolutely loved the staff and services at our stays in Paros and Santorini along with the locations. It aided to making the trip so enjoyable. The tours that we picked were also so perfect and we couldn't have been happier. Thank you for all of your help in allowing us to experience such a once in a lifetime trip, Megan!
--

William Stinson
Our room was great, very comfortable and nice.
Food was excellent.  We enjoyed not only the poolside food but enjoyed all of the 4 restaurants that we visited during our time.  All the staff did a great job and made us feel welcome.
While on property we felt completely safe.
Megan was great to work with and answered all my questions on a timely basis. No doubt that we had a better experience on vacation because of her assistance.
--

Melanie White
We had the best time!!  Our kids were the perfect age to ride everything and have some independence too.  We really liked Aventura too - such an easy location to get to parks.
We definitely picked a good week to go too as we didn't have too long of lines except for a couple of days.
Our favorite meals though were at Margaritaville and Pat O'Brien.
Megan, I can't tell you thank you enough for helping make our first experience the best!
--

Heather Maloney
Thank you for all your help finding the right resort for our family, Megan. Everyone truly seemed to enjoy themselves and had a great time.
--


Tricia Bowman
Working with VIP Vacations, specifically Megan, on our first family trip to Disney World was simply magical! I had my hesitations about traveling with a two-year-old and five-year-old, but Megan made sure our family felt comfortable every step of the way. She was quick, responsive, and very knowledgeable about the My Disney Experience app, which I absolutely needed since I haven't been to Disney in 15+ years, let alone with children! She even went above and beyond coordinating airport transfers once we had already arrived to make sure we could get home safely without having to coordinate from within parks. Thank you VIP Vacations for helping us make memories that will last a lifetime!
--

Shannon McConell
The trip was so great! We had so much fun and the resort was beautiful. I've stayed at a few all-inclusive resorts and I really liked the size of this one. They said there were about 350 rooms in total and everything was super accessible and walkable but at no point did it feel too small. The selection of bars and restaurants was perfect, the coffee shop they had onsite was such a nice touch (especially because I am a coffee over breakfast person lol). There was one main pool with a bar and entertainment which was so fun but 4 other smaller pools if you wanted to relax which was a nice change, and the beach was soo close so you could just pop in the ocean for a bit if you wanted! I also loved the entertainment they had! Each day by the pool there were activities (crafts, exercise classes, cooking classes) and entertainment (carnivals, music, dance classes) which made it so fun and always something to do. Each night they also had such fun shows which made it nice that you didn't feel like you just had to drink all night as something to do.
Thanks so much again for all your help, Megan! We will definitely reach out next time we have a vacation to plan :)
--

Lori Warsing
I was very overwhelmed when I began researching vacation destinations. There were thousands of options, and sorting through reviews and photos became arduous. I then went to VIP Vacations and worked with Megan.
I told her our budget and what we were looking for in a vacation. She gave me a couple of options, and then we discussed what would be the best for our family. They had first-hand experience of the resorts and were able to help us select the Windjammer Landings in St. Lucia. It was the perfect resort and Island for our family.
Megan responded promptly and really took all the stress out of the planning. We are incredibly grateful for the knowledgeable and first-hand advice. We also had tons of questions regarding Covid protocols, and they were able to assist us with all of our questions. Thank you for helping us discover the Windjammer; definitely a vacation we will never forget.
--

Jennifer Lozano-Dozier
I wanted to extend a huge "THANK YOU" for working with us and choosing Dreams Natura. This was the best resort the whole family has visited! The food was amazing, we loved the fact that they different restaurants to choose from and we ate at a different spot each night! The rooms were beautiful, the staff is incredible, the pools and lazy river were a fan favorite. There really was something for all of us to do during our stay. You did a stellar job finding this for us, and we can't wait to visit that resort again!
Again from all of us and the family, thank you!
--

Melissa Frederickson
The trip was great. Weather was perfect minimum rain. Only really effected us at Universal and last day waiting for transportation. Pop century was nice. Very similar to All Stars where I've stayed before. The kids really liked the skyliner trams and going to Hollywood studios. Memories just seeing the kids happy and them enjoying the majority for their first time. They loved seeing and hugging the characters. Thank you for all your help.
--

Audrey Rucker
Service was amazing. Friendliest ever!
Room was soooo good. They have an iPad like thing in the room you could order room service on, check the weather, order maintenance request or fridge and snack restock. We loved that you didn't have to call for those things.
Food was fantastic. Each restaurant carried their theme out so good. Not only was it all delicious but it was always plated so pretty too.
We felt super safe. The resort was double gated and everyone was super friendly always available and just great all around.
Megan is the best. She made our honeymoon planning so stress free, gave us countless options, and man did we pick right. Secrets Cabo had outstanding service, amazing food, once in a lifetime views. The spa was next level too. Megan hooked us up with the best honeymoon package I've ever seen. We had the best time & can't wait to use her & VIP for all our travel needs from now on.
--

Nicole Merrick
We LOVED our stay. Travel went so smoothly- I cannot say enough great things. We will be sure to book our next vacation with you again!
Thank you for all your help and guidance. It was greatly appreciated.
--

Kathy Grant
We had a wonderful time! The Loews Sapphire was beautiful.  Our suite was perfect for all of us. Very comfortable!
Thank you so much for all your assistance.  It really was a memorable trip for everyone!
--

Hilary Durilla
We made it and it is beautiful! We love it!!! Thank you so much for all your time and effort!
--

Rebecca Serman
Megan, We has the absolute BEST time.
The people who wrote those bad reviews must have been staying at a different resort. The food was fresh and DELICIOUS, the room and grounds were so clean, and the staff was so friendly and accommodating!
I can't say enough good things about Zoetry!
It felt like we were at someone's private estate being pampered.
Club mobay was incredible, we literally bypassed thousands of people. And we had a private car take us to the resort. We landed and were at our resort with drink in hand in about an hour! Awesome start to our trip that just kept getting better and better!!
Thank you, thank you thank you for all of your help!
--

Jessica Miller
We had a wonderful time at Excellence El Carmen! I would highly recommend it for those who want a relaxing vacation with very nice rooms and a beautiful beach. The food was really good as well. We were expecting the food to be "just okay," as that was our past experience in the Dominican. But we were impressed! The service at EEC is amazing, just like at EPM. The swim-up rooms were perfect! We would definitely book here again in the future. It's hard for us to choose different resort chains when we love Excellence so much. (We are already trying to decide about where to go in July!)
Thanks again.
--

Sara & Steve Groller
Happy New Year! We had a wonderful time in Jamaica! The beach was amazing and the water was crystal clear. I attached our favorite photo. We'll be in touch for our next trip!
--

Disney Vacation Testimonial
from the Liz Rinaldi and Family
We are back from Disney and still trying to re-group back to normal life?
I just want to thank you so much for all your help and advice through the whole planning process. I could not have done this alone. My girls absolutely loved every part of it and we will have such special memories from this magical trip forever :)
--

Disney Vacation Testimonial
from the Jason Cook and Family
It was awesome - we had a great time. AKL is a great property - the room had just been rehabbed, and it looked like they were doing some more rehab work on other parts of the hotel. The club level was *great* - at least for us. Awesome breakfast, snacks, and even a couple nights we were able to have dinner from the spread. Great variety and flavors. That said, Benji was super into Magic Kingdom, so if we went back, we may try the Contemporary or one of the other MK-centric properties. Being on the monorail might be pretty sweet. No complaints about AKL at all though - the room and the views of the savannah were great.
Benji had an awesome time at the parks - found a love for, in particular, Splash Mountain and Big Thunder Mountain Railroad. Mickey's Not So Scary party was amazing - very chill and being able to ride those two rides, back to back to back to back to back with no wait was a lot of fun.
Clearwater was beautiful - we had been to Sand Pearl before, and it lived up to our memories. You must have requested a premium location room for us - because we had basically the best 1BR suite in the place - top floor, corner room. Amazing sunset views. The gulf was warm, weather was great, delicious restaurants all over, we would absolutely do it again.
We loved having the split trip between Disney and the beach - the beach was a great way to chill for the rest of the week after a pretty busy time at Disney.
Thanks for all your help!
--

Disney Vacation Testimonial
from Matthews Family
Thank you!!!!! It was truly magical sharing the experience with Paige--seeing her interact with the characters was everything I had dreamed! Even my husband came around a bit to understand some of the magic and my excitement, after seeing how interactive the characters could be, how clean the parks (etc.) were, and how friendly the cast members were.
I wish I could attach 100 pictures to this email!!!! Thank you from the bottom of my heart for answering ALL my questions and emails, and helping to make the trip a successful one!!!!
--

Aruba Vacation Testimonial
from Rozalia Carney
I just wanted to write a quick note to thank you for your help getting us to Aruba with not a lot of time in which to do it. It was perfect! We enjoyed it so much!! We will definitely keep you in mind for our next trip.
--

Romaine Family Orlando Vacation
from Avery Romaine from Northampton County, PA
Thanks for ALL your tips and help for our Orlando trip!
We loved discovery cove and all things sea world including aquatica!
Universal was a quick trip, but one we will remember for a long time!  Such an amazing job there in making your "feel" like Harry Potter life is real!
I've attached a few pics ❤️ Thanks again!
 ---

The Calantoni Family Universal Vacation
from Santino Calantoni from Bethlehem, PA
We had a wonderful time. The room was in a great location with a view of the water taxi and a really short walk to one of the pools (and Starbucks!). The hotel in general was very nice, food was good and service spot on. Needless to say the Express Pass afforded us the opportunity to take on more rides, you did a great job and I will be in touch before our next sojourn.
---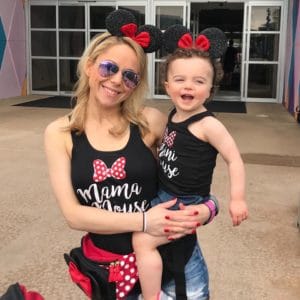 The Donaldson Family Disney Vacation
from Fran Donaldson from Smithtown, NY
We had a great time!
The hotel was great for the kids. The arcade came in handy a few times when we needed to kill time; the kids loved it.  We loved how the pool on one side had no steps and you walk in like the beach, which is really conveniently for toddlers. And the sprinkler part was great too! The rooms were a convenient set up and size. Loved how there were two bathrooms. Our favorite restaurant was 1900 Park.  The Scifi restaurant was awesome. The whole set up was spectacular.  Overall we had a great trip.
Thank you so much again for helping me!
---

The Stuppino Family Disney Vacation
from Ashli Stuppino in Bethlehem, PA
We had a fantastic trip! I was so happy I worked closely with you to establish a well thought out schedule for ourselves, that was key! There were so many great memories it's so hard to choose just one...in terms of rides out favorites were avatar flight of passage, slinky dog dash and seven dwarves mine train. We were so lucky to have fast pass for avatar- the line was 2.5 hours long!  We went to HS when it opened and queued for slinky dog as soon as we got there and the wait was a little under an hour so not too bad.
The girls loved bippity boutique and personally I preferred the Disney springs location to magic kingdom. It seemed less chaotic and the girls enjoyed walking around the shops and going to dinner all dressed up!
Chef Mickeys was a favorite again for breakfast. We tried Be Our Guest restaurant and Princess Fairytale Hall in Epcot for dinner (both a first) and loved them both.  The girls loved meeting all the princesses without having to stand in line. My youngest (3 yr) loved The Beast the most. She was scared of him and he spent considerable time proving to her he was nice. She left saying "I'm gonna marry that beast".❤️
Lastly, the hotel was great, we loved Port Orleans. So beautiful, the girls felt like they were walking around in Tiana's world! The pool was awesome with the waterslide. Only complaint is because it is such a large resort the breakfast situation was difficult- it was a mad house and you had to get there so early just to allow time for lines and to eat before catching an early bus. We actually only did this one day because it was so nuts.
Sorry to go and on! Thank you so much for helping me plan this- it was an unforgettable trip and I couldn't have done it without your help!  I'll send pics in separate email!