Favorite Location:
Citi Field
Favorite Drink:
Manhattan
Favorite Song:
Foo Fighters - Everlong
My goal here at VIP Vacations is do everything in my power to make your wedding, honeymoon, family reunion, getaway, and any other trip you can imagine the absolute best it can be.  I look forward to helping get that dream vacation!
Robert's Full Bio
Unlike many of my peers in the industry, travel was not on my radar as a career.  I grew up in a household where family vacations were few in far between.  Every couple of years we would make a trip to the Jersey Shore and once a year we would head into the woods of Pennsylvania for camping trips, but that, was mostly it.  I didn't take my first trip out of the PA/NJ/NY area until my sophomore year of high school.  My high school band travelled to Seattle and Vancouver.  As a senior, we went to London, England.  I cherished those trips but was certain that those were special circumstances and that my days taking those "big trips" were done.
I stumbled into a job with a travel wholesale company at the age of 21.  At the time I was just looking to do something new, and it seemed like a fun job.  Little did I know how quickly I would fall in love with travel and the idea of making peoples dreams come true.  There is nothing more fulfilling to me then helping people achieve the vacation of their dreams.  I had worked with the team at VIP it my previous job, so imagine my excitement went they allowed me to join the team!
Robert's Certifications
Testimonial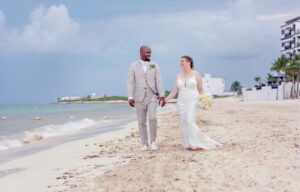 Our destination wedding was perfect!! Thanks so much for all your help, Mac,  with the planning, answering all our questions, sorting out the final payment credit, etc.
I'd say our favorite memory was the wedding ceremony and reception—exactly how we imagined it!
The resort was the perfect size for us. We ran into our guests all the time and were able to spend time with everyone throughout the long weekend! We liked the pool layout and the view of the beach from both general and preferred pools. The fish tacos at the preferred pool grill were amazing!
Thanks again for all your help!
Jennifer Zanck and Braheen Washington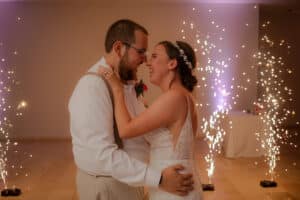 Mason and I would like to formally thank you for all the help and dedication and planning over the past year for our wedding. We have since looked back at the day and could not be happier with the outcome. Multiple guests also commented on the team's attentiveness to emails and phone calls with all questions answered. Continue what you do and many more couples will be happy about their choice in travel agency!
We can't thank you enough.
Dana and Mason Kimball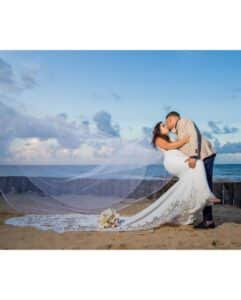 If you are planning a destination wedding let me tell you … YOU HAVE FOUND THE RIGHT TEAM! My husband and I cannot say enough about VIP vacations!!! They were awesome and detailed from beginning to end. We had our wedding at Dream Punta Cana. From getting in touch with wedding coordinators to accommodating 60 People with resort reservations and transportation. AMAZING Service ! We worked closely with Emily and Robert. We look forward to continue to use them for all of our future vacations.
Leslieann Morales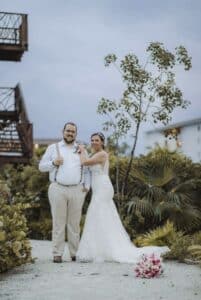 Our trip was out of this world fantastic! I couldn't imagine a better wedding.
Favorite memory is probably the whole wedding day. Everyone had such a great time!
We enjoyed the food most on the resort. Everything was so delicious and the staff was very welcoming.
I attached a photo from our sneak peek photos and our welcome party the night before the wedding.
Two team members really stood out: Emily and Robert/Mac. Both of them helped immensely in the planning process and coordinating the guests together to make sure everything went smoothly. They were always ready for a call or email when questions arise and responded quickly.
Thank you guys so much for pulling this together for us!
The grounds were beautiful, the pools were great, the beach was beautiful. Overall it was amazing.
You guys were great! Very helpful overall! Mac definitely helped out the most, no one had anything but good things to say about him!
Cassie Kogler
Bill & McKensie Wahl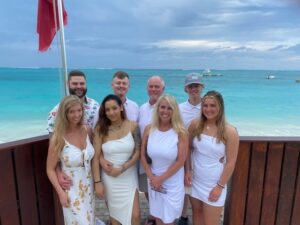 Our trip was absolutely wonderful. The wedding was beautiful as well.
Turks and Caicos has the bluest water I've ever seen and I've been to plenty of other islands. Beaches was a great resort and the employees were very friendly.
Here's our family of 8 :)
Robert Trexler was great at putting up with me!!
Thank you from the Meara Family!
Barbara Meara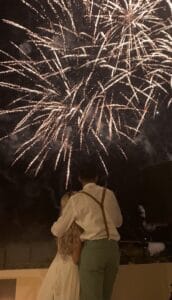 Thanks for checking in on us and a bigger thank you to your whole VIP team! They have truly been amazing. From their quick responses to their willingness to help me and all my guests with a positive attitude, working with them all has truly been my pleasure!
We found VIP from another of your couples, Tiffany and Erwin Argonza (May 2019). We found the process of booking everything all at once with your company very easy and stress free. So I can only hope that one of my guests found it to be just as easy and to think of you guys when they decide to get away. Was definitely helpful that all questions regarding travel policies, COVID policies, and etc were able to be answered by most teammates. Definitely showed that you had experts monitoring such changes and could easily give out the correct information.
Again, thank you to your whole team. They made so much of this process so easy, especially at such an uncertain time.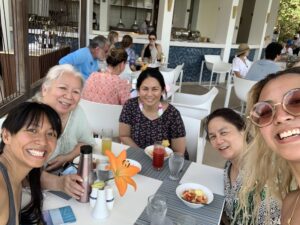 I was helped by both Robert and Ryan and they were great.
They answered my questions and were very patient with my intermittent waves of communication. It was a lovely trip and the ceremony and resort were beautiful. I enjoyed many things about the resort, it's hard to place a favorite feature...but the bed and room were particularly comfortable. I haven't had such a deep quality sleep in a long time, and the cleaning staff was on point. I really enjoyed ATV-ing which we went through the hotel's concierge to set up.  It was a quick and easy process, and totally worth it. Just seeing my family and friends again after so many years of only seeing them online was really special.Thank you all for your hard work.  I will keep VIP Vacations in mind in the future.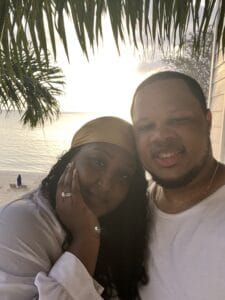 George and I had an amazing wedding week!  The VIP team did any amazing job setting us for the trip with a special shout out to Ryan and Mac!! Ryan and Mac are the A team!  We thank them so much for all of their coordination and constant communication. You all exceeded our expectations.  I know that multiple family members contacting the office constantly can cause quite a bit of confusion and hassle, but you all handled it beautifully.
Yanique Richards