Favorite Location:
Time Square
Favorite Drink:
Crowne + Ginger
Favorite Song:
The Postal Service - Such Great Heights
Ryan Doncsecz is a proud member of the Chairman's Royal Club with Sandals and Beaches Resorts.

     Having this status with Sandals and Beaches Resorts an honor.  In addition, Sandals gives this distinction to the top select travel agents that continuously produce results.  Ryan has been a Sandals CRC since 2011.  Sandals values his loyalty to the resort brand. Furthermore, Ryan's expertise with all the properties can provide sage advice.  His experience, along with his Groups Manager title at VIP,  is a winning combination for clients.  Ryan Doncsecz will ensure that your group is taken care of from beginning to paradise.
     Ryan also has received many awards.  Some of his key certifications including Sandals CRC Agent, CTA,  and Disney College of Knowledge Graduate.  His favorite destination is Disney.  Ryan has also traveled to Thailand and throughout Europe.
To view Ryan's testimonials, please click here.
For Ryan's  full bio please see below.
Ryan's Full Bio
For as far back as I can remember, traveling was a part of my family's priorities.  By the time I was 16, I was an advanced scuba diver and had traveled to some of the most exotic areas of the world.  As I grew older, I joined the high school choir and band and had the opportunity to travel with these groups.  I will never forget singing at Disney World during the 'candlelight processional' and going to Disneyland in California with the band.  Combining travel with my love for music was a perfect combination.    My passion for music propelled me to get a BA in Music and I focused on Music Education at Muhlenberg College, where I graduated in 2010.
Following graduation, I had the pleasure of joining VIP Vacations in their student groups arena and was able to escort other marching bands and choirs.  It became clear to me that working with students, sharing my travel experience and guiding them on group trips was the perfect career profession.  VIP Vacations has escorted groups throughout the USA to major theme parks, Bowl Games, Music Festivals and Sporting events.  VIP has had extensive experience with marching band trips to Dublin over St. Patrick's Day and arranged choirs to sing at the Vatican and tour Italy.  VIP Vacations routinely provides day trips into NYC to see Broadway shows, participate in back stage classrooms, and enjoy NYC sightseeing.  We work directly with Music in the Parks, Festivals of Music, Festivals At Sea, Rock the Boat and Disney Magic Music days --and offer many other adjudication opportunities.
I now manage our entire Groups department from our Student Groups to Destination Weddings.  I love helping wedding couples fulfill their dream "I do" day and take pride in quick responses and excellent customer service!
Personally, I have been to Disney over 25 times and have traveled throughout the Caribbean and Mexico.  Recently I have become a specialist for people wanting to getaway to Thailand, Italy, France, and a few other niche destinations.  I have all the Pennsylvania Education clearances to work with students and regularly perform in community musicals.   When I travel with students, there is an instant bond and I thoroughly enjoy watching them perform and cheering them on!  I hope to provide the groups I work with the same wonderful memories that I have of performing, camaraderie, teamwork, and travel!
Ryan's Certifications
Testimonial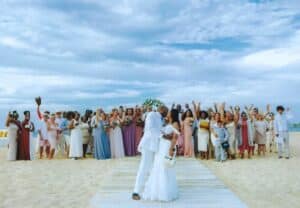 Damion and I can't thank you enough for helping us navigate our destination wedding. We appreciate all that you did for our large group! We know it isn't easy trying to accommodate everyone's requests so we thank you for doing your best in making everyone comfortable. You guys were really great! Our Wedding went off without a hitch and we can't thank you enough. Our room was absolutely beautiful and our travel was easy and fast. We were surprised at how great everything turned out! All the behind the scenes details didn't go unnoticed.
Thank you!
Kate and Damion Morgan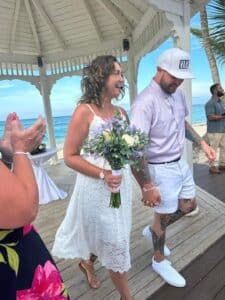 We enjoyed working with VIP so much! Everything went so smooth. Huge shout out to Ryan for helping out with an issue. One of our guests flight was delayed 14 hours. So I reached out to him to make sure transportation would still be available for them, and he made sure everything was taken care of!
Thank you all for your help and making sure everyone was taken care of for the trip! Thank you again!!
Sara and Ryan Bacskai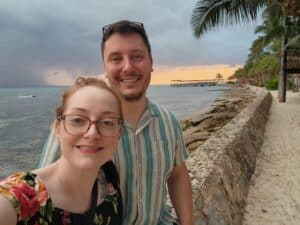 The trip was wonderful - great food and service as promised!
When we arrived we also upgraded our room for the stay to have a top floor corner accommodation so we'd essentially have our own section of the wraparound infinity pool which was wonderful (and so was the view).
Robert Williams III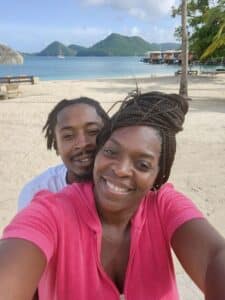 The highlight for me was the scenery. It was a beautiful island. The ride from the airport to the resort was a highlight as well. Scary but fun.
We had a great time with the wedding party. Met new people from Dawn & Adam's family.
Ryan you have been amazing. You were very responsive to my emails in a timely manner. We were pleased with VIP services.  Thank you!
Carmelle Henson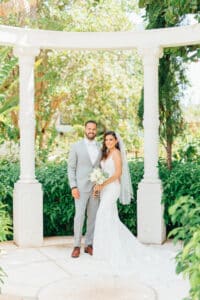 It has been hectic on our end, but I finally have time to share with you our experience! We did enjoy the resort with our families and friends. Having all our families and friends there we had a blast together. For the wedding it was incredible the wedding planners there Valecia and Tallia were amazing. They really took their time to listen to my concerns and my vision. I really made sure to express exactly what I wanted the day of the wedding and Valecia and Tallia made it possible!
VIP Vacation did an AMAZING job with handling all our bookings and handling any questions our guests had. Your team was expectational. THANK YOU SO MUCH !!!
Ciara Fodi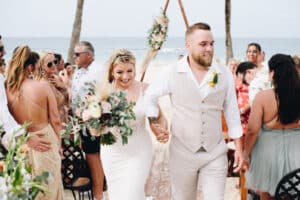 Life has been nonstop since the wedding lol
My favorite part about the trip was the wedding night! All 65 of us went down to the pool after the reception and jumped in fully clothed. The bartenders literally followed us there and made us drinks until morning. It was the best.
I enjoyed the beach the most at this resort! It was so beautiful and wide open. The water and sand were so clean and warm.
Of course you(Ryan) stood out to us at VIP as well as Jennifer. Hunter and I could not be more grateful for your kindness and patience with our guests. You both made this experience feel seamless and took that extra stress off of me which i will be forever grateful for!
Best wishes to you and the team, you are all truly incredible people!
Bill & McKensie Wahl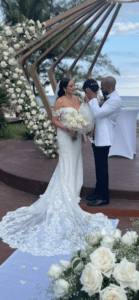 Ryan was absolutely amazing with helping me through this whole process. As well as Justin! I would definitely recommend VIP Vacations to anyone! And I would recommend The Fives for a vacation, but not for a wedding.
I want to thank the whole VIP Team for helping me this past year! It has been a whirlwind of emotions but it is finally over and the wedding was amazing!
Kareena Rosario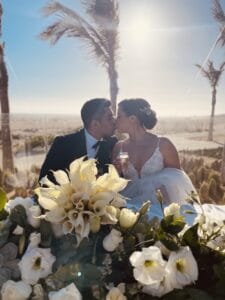 We LOVED the resort. We were impressed with the level of service from the beginning. Our guests could not say enough good things about it!We were able to take our party to a boat trip after the wedding day and this was a highlight for everyone.
Everyone at VIP was very helpful, transparent, and knowledgeable. Ryan was our absolute favorite. He was quick with replies and even through emails, I could tell he had a positive attitude.
Paulina Perez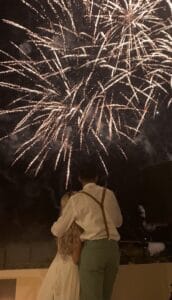 Thanks for checking in on us and a bigger thank you to your whole VIP team! They have truly been amazing. From their quick responses to their willingness to help me and all my guests with a positive attitude, working with them all has truly been my pleasure!
We found VIP from another of your couples, Tiffany and Erwin Argonza (May 2019). We found the process of booking everything all at once with your company very easy and stress free. So I can only hope that one of my guests found it to be just as easy and to think of you guys when they decide to get away. Was definitely helpful that all questions regarding travel policies, COVID policies, and etc were able to be answered by most teammates. Definitely showed that you had experts monitoring such changes and could easily give out the correct information.
Again, thank you to your whole team. They made so much of this process so easy, especially at such an uncertain time.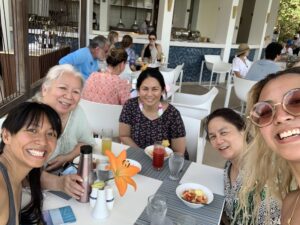 I was helped by both Robert and Ryan and they were great.
They answered my questions and were very patient with my intermittent waves of communication. It was a lovely trip and the ceremony and resort were beautiful. I enjoyed many things about the resort, it's hard to place a favorite feature...but the bed and room were particularly comfortable. I haven't had such a deep quality sleep in a long time, and the cleaning staff was on point. I really enjoyed ATV-ing which we went through the hotel's concierge to set up.  It was a quick and easy process, and totally worth it. Just seeing my family and friends again after so many years of only seeing them online was really special.Thank you all for your hard work.  I will keep VIP Vacations in mind in the future.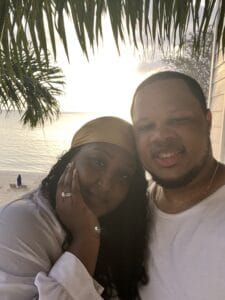 George and I had an amazing wedding week!  The VIP team did any amazing job setting us for the trip with a special shout out to Ryan and Mac!! Ryan and Mac are the A team!  We thank them so much for all of their coordination and constant communication. You all exceeded our expectations.  I know that multiple family members contacting the office constantly can cause quite a bit of confusion and hassle, but you all handled it beautifully.
Yanique Richards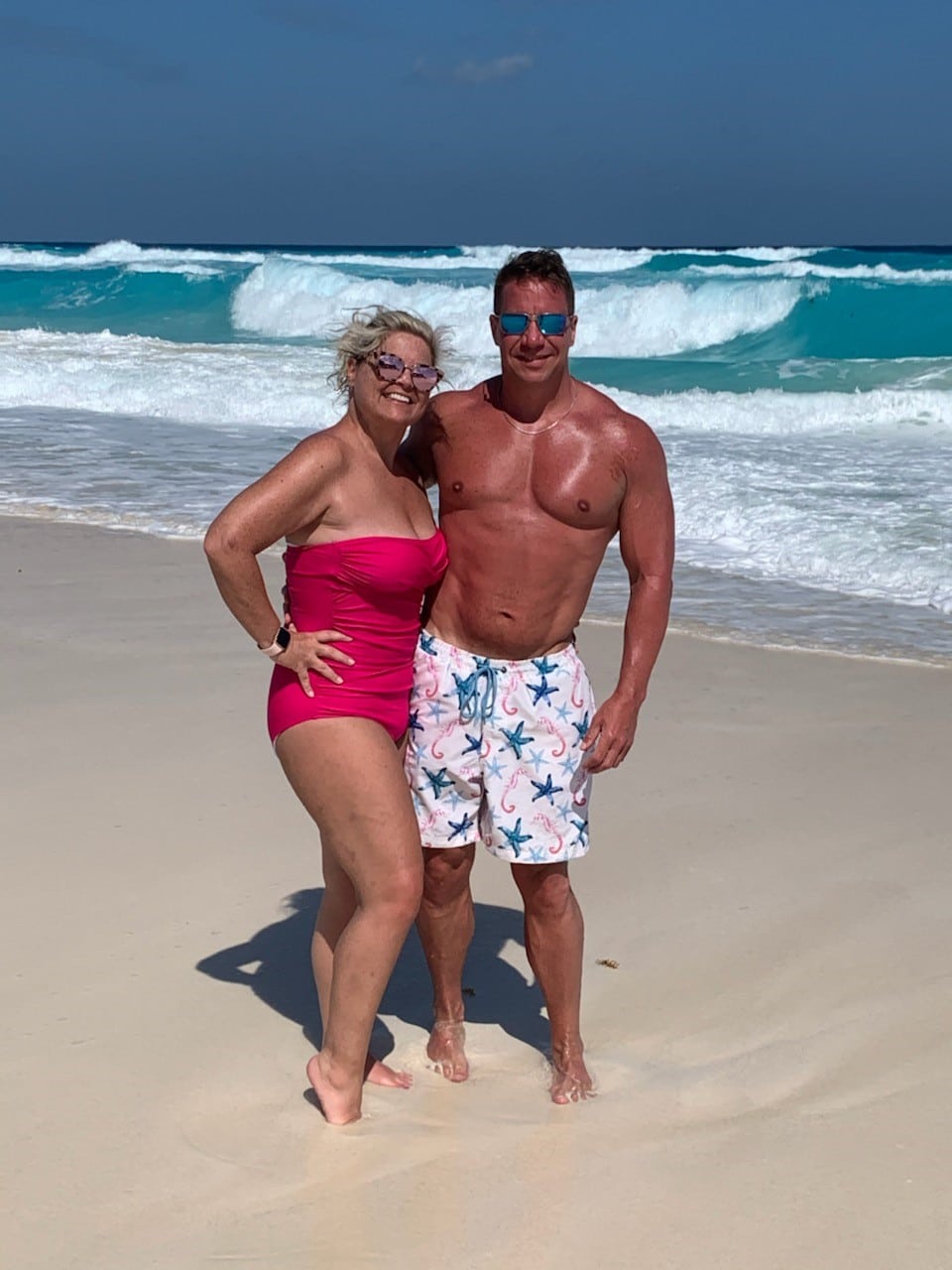 Thank You VIP Vacations for the Best Vacation last week in Cancun, at Secrets on the Vine! If it wasn't for Ryan and Justin working their hardest to make sure our Vacation was perfect, and they got us the Best Room of the Master Suite anyone could ask for! This is our second trip with VIP, and guess what?!?!? We are going to only use them going forward! They make vacationing relaxing, stress free, and they do everything for you! Best prices on resorts, amazing upgrades we received, nothing but the Best Service!
Sharon Chlebek & Jeff Carpenter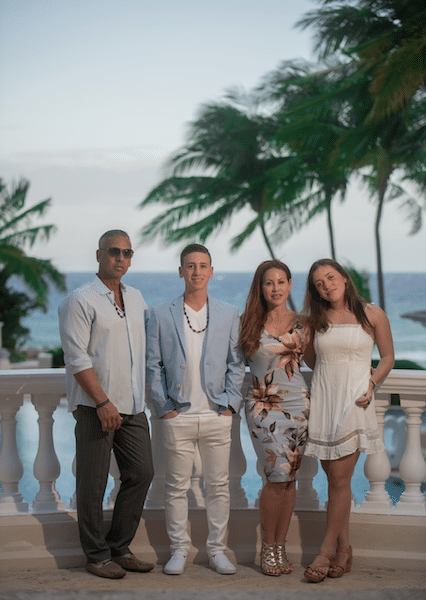 The entire trip from start to finish was fantastic. Flying was relatively easy, definitely recommend to have paper printouts. I'm so glad we chatted regarding our COVID testing results. Testing at the resort was quick and Izzy. They are incredibly good with sanitizing on the island. The weather was perfect. Our resort villa was amazing.
Barbara Rizzotti & Family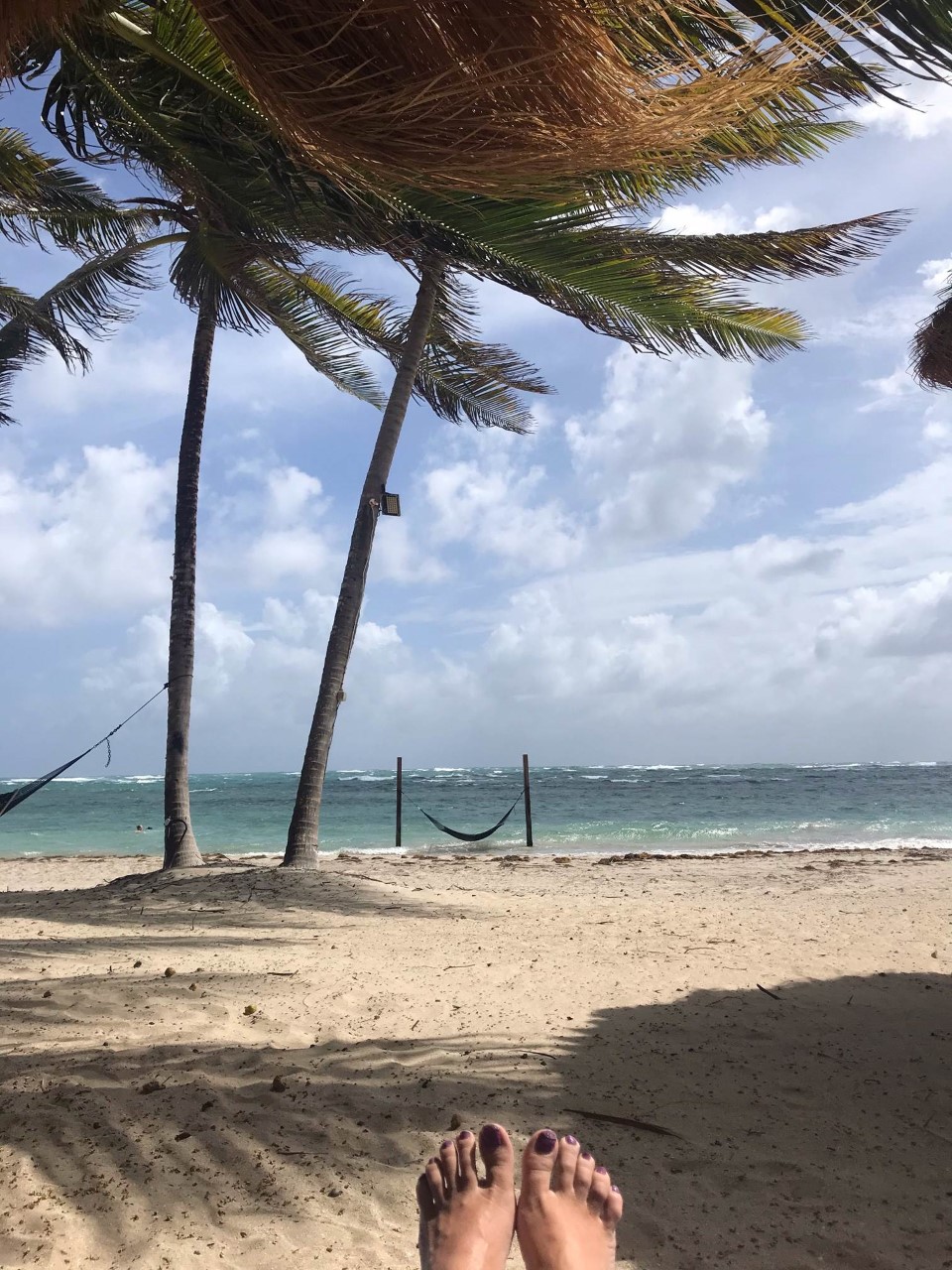 First and foremost, thanks so much for all your help and patience. I could not have done it without you.
Our trip was fantastic! The property is gorgeous! It was the perfect time to go because there were not many people there. This is my first time at an all inclusive and I am now spoiled. I'm going to expect there to be no people at the next place. There were many times that it was just my family or our group at the pool.
The food was very good and the staff was friendly. The rules were in play and all staff abided by them. I felt very comfortable with the way they are handling this pandemic. With less staff on hand, the services may have been slower, but I didn't mind since we had all the time in the world and I wasn't in a rush to go do anything.
Thanks again,
Brenda Barta & Family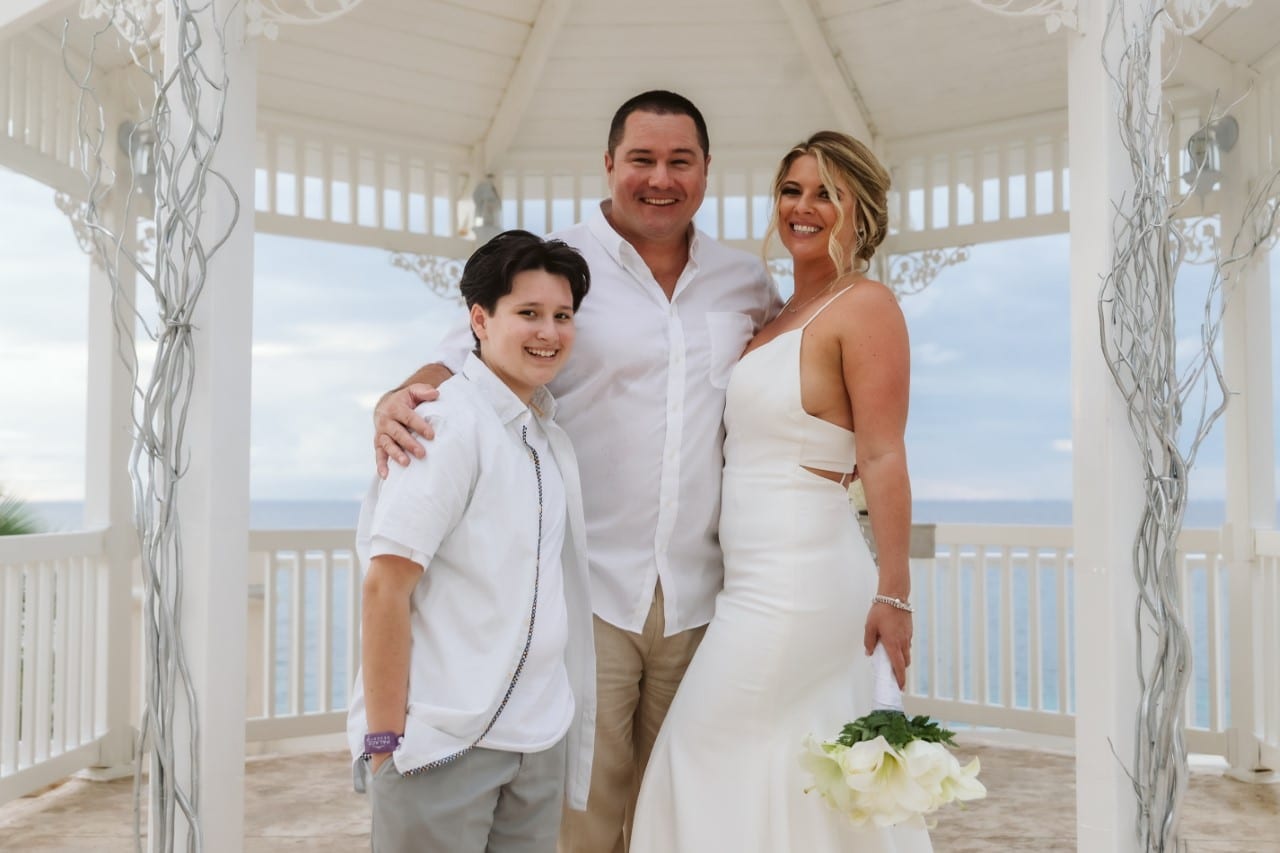 Thank you so much for the lovely card we received from all of you truly put that extra special personal touch on the whole experience.
We are slowly recovering from all that is destination wedding shenanigans but I wanted to send a response and tell you how truly amazing the whole team at VIP was through the whole process. I don't know if I recommend a destination wedding during a pandemic but if someone's gonna do it they can't go wrong using VIP actually you better or you might lose your damn mind Lol!
I mostly was in contact with You(Justin) and Ryan and Robert and I was truly grateful for all your insights and help throughout the entire process. Ryan had to send so many emails addressing my concerns and questions and was amazing! You and Robert also dealing with all the guests and their crazy changes... I know many others did things in the background and I'm sure it takes a team so I appreciate each and everyone of you!
Stephanie Gibbs & Dominick Sebastiani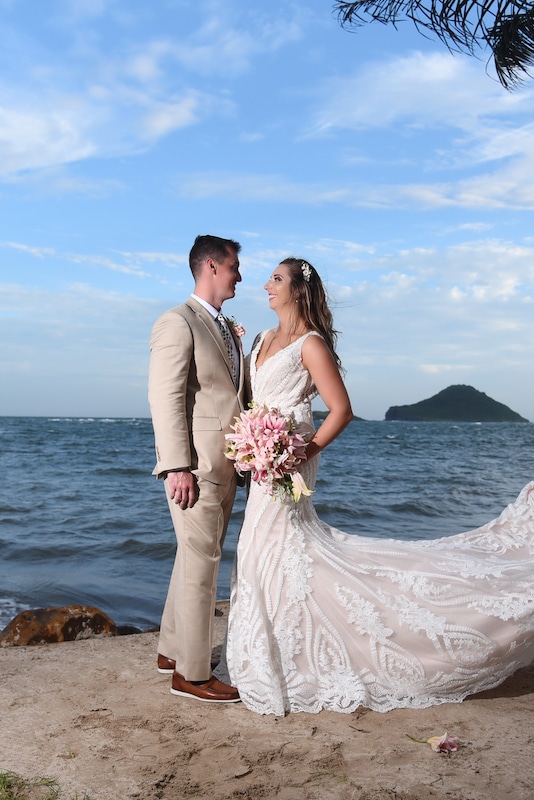 Thank you to the entire VIP team for everything that you did over the last year and a half to make our destination wedding a reality, even throughout a crazy pandemic. We had a great experience working with VIP pre-Covid and admittedly hit a bit of a rough patch when it came time to postpone our trip back in March. Looking back, I think a quick Zoom or phone call would have helped both sides clear up any questions and hesitations better than in an email as they don't always convey the messages we intend. Through all of the immense stress and uncertainty at the beginning of the pandemic, VIP stuck by our side and we were more than happy to stick by yours. You made our lives much easier by handling all of the changes with the resort and airline and we can't thank you enough for taking that weight off our shoulders.
Ryan was a pleasure to work with- no matter how odd my questions were, he always responded in a timely manner with a positive message and kept us informed on new bookings. We have some difficult members in our group so I'm sure we weren't an easy group to deal with! I also heard from several guests how helpful and polite Justin was in answering their questions. It was very reassuring for us to hear all of the positive feedback from our group about VIP, and it proved that we made the right decision in trusting VIP with our trip.
Kate & Alexx Sites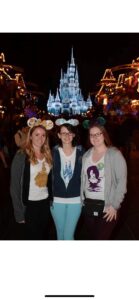 The trip was great! We had so much fun with the rides and the different shows and characters! Thank you so much for helping plan it it was so easy and stress free!
-Morgan Landis
Ryan,
Another fabulous group trip!  Thanks so much for coordinating 5 buses of 200+ middle school kids.  Looking forward to next year's trip!
Dan Zettlemoyer, Nistchman Middle School Band/Orchestra Director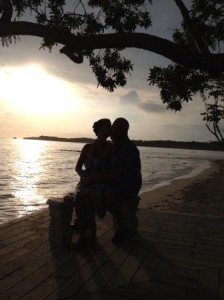 Hello Ryan,
As you know, we're back from Jamaica and I just wanted to tell you we had a FABULOUS time!!!! Sandals is truly a 5 star resort! This was our second time back to Sandals Whitehouse, and we decided that whenever we want to do an all inclusive we will go back to Whitehouse again. We talked to many other guests there who have been to other Sandals, and without hesitation, all of them said Whitehouse was the best.
We know some people who want to go so we brought back lots of info and pictures for them to see. We will definitely have them contact you if they want to book.
So, thank you again for setting this up for us. We had a wonderful time!!!!
Andrea and Tom Trinchere  - Easton, PA - Sandals Whitehouse
I always enjoy working with you guys! I was so impressed by how quickly Ryan responded and was able to get updates on quotes as we changed our mind.  I appreciate the patience!
Olivia and Keith Askin - San Antonio, TX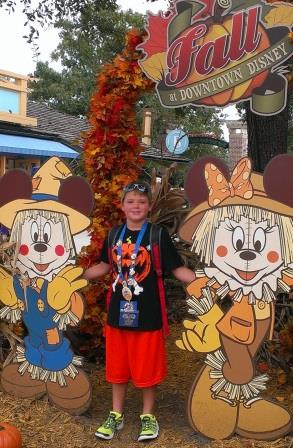 Hi Ryan,
Just wanted to thank you for another amazing VIP vacation!  It's nice to just show up and know everything is taken care of!  We had a great (but exhausting) time!  CJ absolutely loved the hotel and Mickey's Not So Scary Halloween Party! Thanks again!  We are looking forward to our next VIP Vacation!
Annette Wirth - Danielsville, PA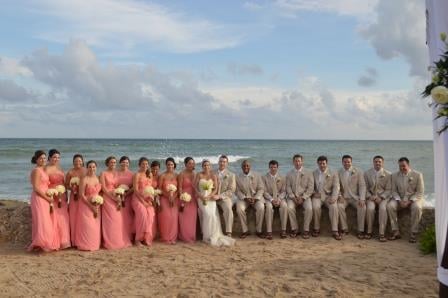 We had a great time at the El Dorado in Riviera Maya. The wedding was wonderful, the reception a great time, and the vacation incredible.
We would recommend the resort to others. All went well. Ryan, from VIP, would be our VIP.
Thanks you!
Nancy and Jack DeLuca - North Easton, MA
Dear Ryan and Staff,
Your very capable assistance was evident in our first encounter with VIP Vacations, namely Ryan and his "Don't worry about anything" attitude.
Now to the vacation itself , it couldn't have been more wonderful, in fact in describing this trip to friends and family we said if wonderful describes a great trip, then we had a "10 Times Wonderful "experience.
I've been telling anyone I speak to that if they get a chance to go to Jamaica definitely GO! Hoping to go back again when time and disposable income allow or try something NEW, in a  just as exotic paradise that we found in Jamaica.
Thank You again for everthing you and your staff did to make our 40 anniversary trip such a memorable one.
Your Friends,                                                                                                                                              James & Beverly Trenberth - Easton, PA
Hi Lauren and Ryan,
It's been almost two weeks since our wedding so this email might seem a little late, but please know Karl and I are still basking in the afterglow of what we consider to be the most amazing wedding ever! Seriously, I can't tell you enough how much we loved every moment of our wedding. From the location to the photographers to the DJ - it was everything I could have hoped for and more.
I owe you guys and the rest of the VIP team a lot of compliments and thanks for helping to make the big day a success. First, in helping guide us to the right destination for a February wedding and also for pointing us to El Dorado Royale. It was the perfect place to host our wedding, and we received feedback from our guests that it was not only a great wedding venue, but also an amazing vacation spot. I wouldn't be surprised if we have return guests to EDR.
Second, I want to thank you Lauren for helping me through the actual planning process. I tell everyone that when you get engaged, that somehow qualifies you to throw the biggest most expensive party of your life, and it can be daunting if you've never done it before. I didn't have a clear vision of what I wanted my wedding to be, but working with you and Claudia helped me nail it down, and it couldn't have turned out more beautifully.
I really appreciate the time you took to answer all my questions and make me feel better in general about planning a wedding from another country!
Finally, I want to thank Ryan and the rest of the VIP team for helping our guests book their accommodations and ensuring the "logistics" side of things were taken care of. I heard nothing but compliments from our guests about how easy it was working with VIP. As the bride, it was a huge relief knowing that my guests were in good hands.
Again - I appreciate everything, and I would definitely recommend VIP to any bride and groom considering a destination wedding.
PS. I got the beach wedding frame - how cute! When we get our pictures from Sarani, we will pick out the perfect picture to go in it, and put it some place special in our house! Thank you!
Sincerely,
Courtney Blankinship - Centennial, CO