5 Tips for staying at El Dorado Royale & Casitas from a Travel Expert
December 8, 2022
AUTHOR: Emily Bertsch, VIP Office Manager
(Note: This post contains affiliate links. If you click a link and make a purchase, we may earn a commission at no additional cost to you. As an Amazon Associate, we earn from qualifying purchases.)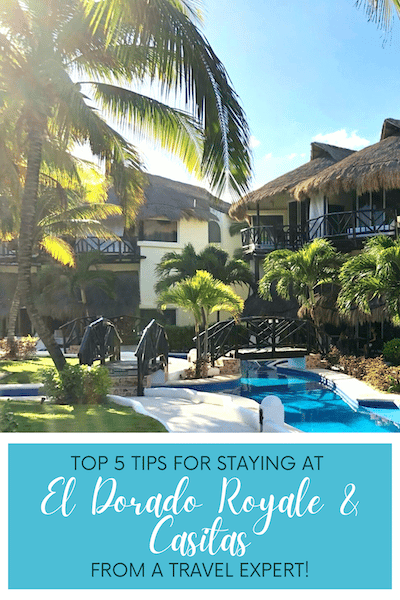 I've been lucky enough to visit many different islands and resorts throughout Mexico and the Caribbean. However, it didn't take much time for me to pick my favorite – the Karisma Resorts! This brand has both adults-only resorts (El Dorado & Margaritaville) and family-friendly properties (Azul, Generations, Nickelodeon to name a few). 
I am lucky enough to get to stay at one of the Karisma resorts at least once a year. I am NEVER disappointed and I NEVER want to leave! These resorts are also considered "gourmet inclusive" instead of just "all-inclusive". They take a lot of pride in their food! Everything I've ever eaten here has been OUT-OF-THIS-WORLD delicious! Not to mention, the service is IMPECCABLE! The staff truly cares about your experience and making it one to last a lifetime. I find myself rarely opening a door for myself when visiting one of these properties!
Of them all, my heart remains a part of El Dorado Royale/Casitas Royale! It was the first resort I visited as a travel advisor and also my first trip out of the country. Turns out, this property would be where I married my hubby six years later in August of 2016! A few years later we took our first trip as a family of three, with our son, at the neighboring, family-friendly Generations property!

El Dorado Royale/Casitas Royale is in the Riviera Maya, just a short 20-minute ride from the Cancun Airport. It is close enough to be able to experience the hustle and bustle of Cancun, yet far enough to feel like you are in a secluded, Mexican paradise! On property, guests will find world-class restaurants, an array of bars, multiple pools, two fitness centers, and even two full-service spas!
I feel nothing short of spoiled when I stay here and I make sure to recommend this property to anyone looking for a relaxing, romantic Mexican vacation! 
For all your sun & sand needs, be sure to check out our Amazon storefront for our must-haves!
Want to know more? Here are my Top 5 Need-to-Know Tips for your next visit!
Still Hungry? Order More!
There has never been a restaurant I did not like at this resort! With 14 different dining options, your taste buds will never get bored. You'll be able to tickle your palate with cuisines from Italian to Mexican, American to Asian, and Caribbean to International. Most of these restaurants are a la carte, but there are a few food displays (buffets) on site as well.
One thing to remember – some of the a la carte restaurants do serve smaller portions, but don't forget that you are at an all-inclusive resort! Order a second time… or take advantage of the complimentary 24-hour room service that is available to you! They have amazing guacamole and the mini bar is also complimentary and restocked daily.

The dress code on property is Resort Casual for breakfast & lunch and Resort Elegant for dinner. Woman can essentially wear whatever they would like in the restaurants (just no swimsuits). Men must wear T-shirts for breakfast, as well as a collared shirt (polo or button up) and closed toe shoes for dinner. You are welcome to make reservations, but they are not required.
Can I drink the water?
The resort has an incredible filtration system, so you really don't need to worry about the water. While I wouldn't put my head under the faucet and drink from there, I've used the faucet water to wet my toothbrush and rinse my mouth out and have never had any issues, so you don't have to worry about that. You also don't have to worry about the water they use to rinse the food or the ice cubes you'll find floating in your margarita (if you ordered it on the rocks, that is!). They will stock your room daily with 6-10 bottles of water. Feel free to use them to fill up your reuseable water bottle, and if you run out, ask for more! Stay hydrated, folks!
Daily & Night Entertainment
One of the items you will receive upon check in will be an activity sheet. You can also find this on your in-room flat screen TV! These are all FREE activities for you to do, so I HIGHLY recommend you take advantage of them! There are activities such as kayaking tours, snorkeling, touring the greenhouse, cooking demonstrations, dance lessons, coconut painting, trivia games, bingo, bicycles to use, tequila tastings, and more! At night, you can enjoy live music from local musicians, dance the night away to heart-pumping DJ's, watch fire dancers, or attend nightly theme parties (like casino nights!). You also have full use of the fitness center at no extra cost, so you can burn off a few of those calories you are sure to eat (and drink) up!
Looking for something extra special?
While the resort is all inclusive, there are some things that do cost additional, such as: the gift shop, laundry service, the Starbucks coffee shop, & some telephone and fax services. You can also make your trip extra special with some unique add-ons like a private dinner on the beach, tennis lessons, beauty salon services, a couples massage next to the ocean, a wine pairing at a Culinary Theatre and tours/excursions. You can purchase spa treatments and tours/excursions ahead of time or upon arrival.

Immerse yourself in the culture!
The resort offers a complimentary shuttle into Cancun and Playa del Carmen where you can go shopping, eat some local cuisine, have a drink at a bar, or go dancing at night! Cancun is a 35-minute ride, while Playa del Carmen is a quicker 20-minute ride from the hotel. This service requires a reservations, which you can make at the front desk.

Are you ready to book your trip to El Dorado Royale & Casitas? Reach out here today!